After our recent review the very modern, well-presented Glenlivert Nadurra it seemed like a good idea (yes yes, any excuse) to dig out something from the distillery's earlier years. After-all, despite what marketers might wish you to believe, whisky has changed a great deal over the last 40 or so years. While 1973 was already late enough to have seen the end of Glenlivet's floor maltings (1966) and the conversion from coal to gas firing (1972), the stills remained direct fired until 1985 and yeast types and barley varieties would certainly have been very different from those commonly found today.
I have spoken in the past about my affection for Berry Bros & Rudd, and while I have tasted many very good casks bottled under their name I can't deny that examples distilled in the early 70s have an extra allure to them. In this department the good gents of BBR have been rather busy recently having released both this Glenlivet, its sister cask #10822, and a pair of similarly enticing 1974 Glen Grant whiskies (of which the Berry Brother's Glen Grant 37 year old has already received a very favourable review on the blog a couple of months back.) If anything, I am hoping for even greater things this time around as, at its best, early 70s Glenlivet can be an underrated marvel of fruity elegance.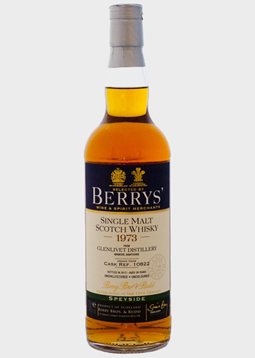 48.6% abv, c# 10658, bottled 2012.
Nose:
Lovely, both as elegant and expressive as hoped with a sweet fruitiness of peach syrup, ripe papaya, and a sharper note of sweet and sour pineapple with delicate floral honey sitting behind. The age comes through next with touches of polished oak and fresh mint, backed by a nice hint of foam banana sweets that slowly subsides to reveal herbal notes of jasmine tea. After some time and a little water the oak lactones come to the fore with some rich vanilla, white chocolate and building spice of cardamom and dried ginger.
Taste:
The oak presence sits prominently to the fore on delivery; green tea, pine resin and peppermint with delicate hints of papaya and melon finding their way through. A little honey and toffee sweetness rounds things out towards the finish but is followed by some leathery dryness. The old issue with whiskies of this such age are in evidence, but enough complexity survives beneath the wood.
Feel:
Creamy, richly coating.
Finish:
Quite long, with developing spices of ginger (dried and crystalized), cinnamon and continued leather. A welcome suggestion of beeswax arrives late on with some oily mixed peel providing a lift.
Comment:
A beautiful nose that lives up to my lofty expectations with ease, remaining entertaining, elegant and complex as it evolves in the glass. However, as is often the case with malts of this considerable age, the palette feels a bit tired by comparison, the wood beginning to shroud the spirit's delicacy in a veil of resinous oak. These odd splinters aren't enough to put me off though, as they remain just within acceptable limits and leave me happy to recommend this to those who enjoy the style.