Glen Grant whisky has an ever growing and strengthening reputation and this is largely due to the independent releases seen over the last few years. 1972 has become a vintage associated with extremely high quality for a number of distilleries and Glen Grant is one such example, owing much of its recent praise to outstanding casks from just that year. Bottlings such as the Duncan Taylor Whisky Fair release which found favour in the Malt Maniacs Awards in 2010 have helped to define the deeply fruity, vibrant and honeyed character associated with these great old casks.
This new bottling from Berry Bros and Rudd is from the lesser known, and prized, vintage of 1974. My previous experience of these casks has borne out the generally held belief that they often fail to reach the heights of those distilled just two years previously. That said, there are always exceptions to a general rule and hopes are high when a quality bottler, with a proved record of excellent cask selection, is involved.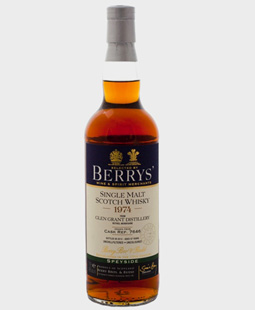 1974-2012, 47.8% abv, c#7643
Nose:
Quite an expressive start and with instant complexity; deep beeswax, polished oak and coffee with some sweeter notes of quince jelly and apricot jam. Next a layer of menthol eucalyptus and mint with some spiced orange cake and old leather behind. It just seems to go on and on, then developing liquorice root, dark chocolate, lime and dense thyme honey. The range of notes is very impressive and while the age is clearly evident it remains fresh, entertaining and inviting.
Taste:
A good delivery on coffee dregs, mentholated oak and the honey but quickly growing softer with roasted almonds, candied orange and waxy beehive suggestions. A little earthy tea and a darkly jammy note begins to build; fig, blackcurrant all with a touch of gingery spice, cocoa and clove. Not quite so wide and demonstrative as the nose, which is often the case with whisky at this age of course, but still anything but austere and not as tannic as might have been expected from the nose.
Feel:
Rich and coating but not overly dense or cloying, very good.
Finish:
Medium-Long with the ginger growing slightly candied alongside cut oak/resin and leather. A little jammy fruit remains in the gently drying length.
Comment:
An excellent and extremely complex nose that could keep me happy for a long while, holding its intensity in the glass as its shifts from one set of aromas to the next. It is rather less expansive on the palette and feels a little tired in places but, as mentioned earlier, this is quite common where such age is concerned and doesn't hamper things too much here. Overall, being critical, it doesn't quite match the best Glen Grants but it's not far off in global quality and well worth considering if you like this kind of profile and aren't scared of a decent helping of old oak.