Balmenach distillery currently resides in the portfolio of Inverhouse, but unlike Old Pulteney, Balblair and Speyburn it is yet to receive the levels of re-branding and subsequent revival that these now more prominent names have been subject to. Indeed, it seems that such lavish treatment remains some way off for Balmench, and like many of Scotlands oft-overlooked distilleries its output will be largely destined for the blending vat.
You may not have encountered Maltbarn before, but this new bottler out of Germany (under the stewardship of former Malt Maniac Martin Diekmann) has already issued a few very nice casks. This relatively new bottling is one half of the company's second pair of releases and was accompanied by one of the many high quality '77 Glenturrent whiskies we have been seeing recently. A distiller you rarely encounter and a new bottler, quickly growing in stature. This should be interesting.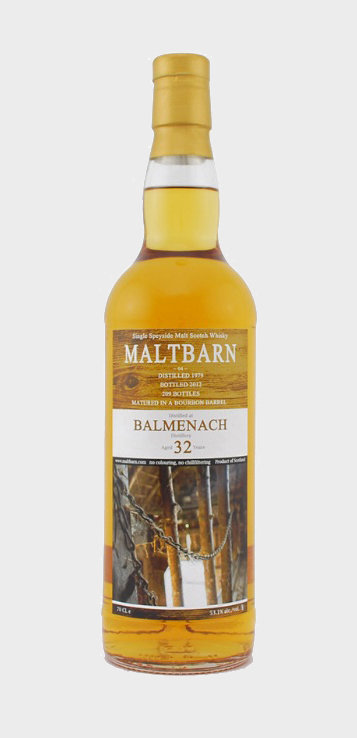 32 year old, 53.1% abv, 209 btls.
Nose:
Comes across as rather youthful at first with dry cereal notes, granite dust and lovely hints of gooseberry juice and yellow apple skins. Grows slightly dusty; hessian sacks, raw wool, candle wax and a yeasty touch of mead. Time tames the more austere qualities and brings with it a thread of heather honey and a surprising, mustardy spice. Varied, shifting and rewarding of time.
Taste:
A very spicy delivery with white pepper and coriander in abundance, before the heather honey sweetness from the nose begins to calm things down. The clean fruit notes come next; gooseberry, crisp apples and a little lemon thyme. Heading towards the finish a mix of leather and that earlier hint of mustard take control.
Feel:
Spicy, supple.
Finish:
Medium-long and with a slowly mellowing mix of spice/pepper and soft herbal notes. Suggestions of light honey, new leather, wool and apples take turns in the length.
Comment:
A very interesting bottling; quite dry and austere in places, more elegant and poised in others and with a distinctly spicy delivery. Highly enjoyable stuff, characterful, ever-shifting and entertaining. A Bottler to watch, no doubt!