Christmas Whisky
Here at Whisky Marketplace HQ the excitement is starting to build. Why? Well, yet another excuse to crack open some festive whiskies (as if we needed one) during the holiday season. From the finest brands in scotch, to American bourbons, or whisky from around the world, be it India, Japan or even some of the more obscure whisky (or whiskey depending on where), chances are we have it here somewhere.
Even rare whiskies 20, 30, 40 or more years of age are available, making the perfect gift for that whisky lover in your family or whisky connoisseur friend that you know. Isn't that how the song goes anyway? On the first day of Christmas, my true love gave to me... (watch this space).
In the run up...
Here are few things that caught our eye and details of more to come over the next few weeks.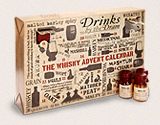 Whisky Advent Calendar
Count down the days to Christmas in style!

Mature your own whisky (with mini-barrel)
What better way to count down the days to Christmas?
Christmas Whisky Gift Buyers Guide
Buying a Christmas gift for the whisky lover in your life? Or maybe you're a whisky enthusiast who wants suggestions. It could be you're looking for a useful list to send your nearest and dearest as a hint!
Our Christmas whisky buying guide has suggestions in a variety of different price ranges and levels of whisky geekiness. There something to satisfy most budgets and degrees of malt snobbery!
The 12 Drams of Christmas
Prepare to be amazed and appalled in equal measures as the chaps behind Whisky Marketplace bring you the whisky musical extravaganza that is The 12 Drams of Christmas an homage to whisky in the form of a jolly christmas carol. With 12 cracking recommendations for Christmas whiskies as we count down the days it's well worth putting up with the bad singing!
Christmas whisky offers
We'll be bringing you the best whisky offers and deals in the run up to Christmas.