It must surely be time for another oldie, and indeed time to feature another of Dominiek Bouckaert's excellent Whisky Man bottlings. Tomintoul distillery certainly isn't the most glamorous or oft-lauded name in the Whisky world, but like just about any distillery –well virtually- there are still gems to be found. It's a relatively young plant, built in the mid-60s and now in the hands of Angus Dundee Distillers it is producing a range of affordable expressions, not to mention a beautifully packaged 76. The site also distils a peated make under the name Old Ballantruan which has recently been packaged as a rather attractive 10 year old and is worth checking out, if only for interests sake.
On to Independent examples such as this 1969 release then, and as with many distilleries where the focus has been largely placed upon producing stock for blending, the non-proprietary releases tend to provide punters with good value and perhaps the best opportunity to get a handle on what the distillery has to offer. There has been quite a number of late 60s Tomintoul casks bottled over the last few years, many of them of high quality, and given the reputation of Dominiek's selections it can't be easy to track down and recognise a cask that offers something new. Particularly while retaining the qualities that have given a number of these old Tomintoul's favourable reviews in the past.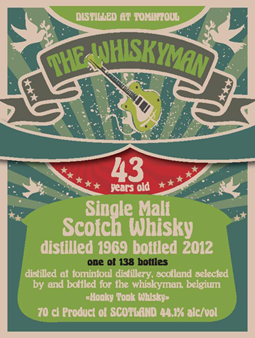 "Honky Tonk Whisky", 44.1% abv, 138 btls.
Nose:
A complex, exotic mix of kumquat, ripe mango, green cardamom and ground nutmeg. A suggestion of rose water comes through alongside the fruit as a little sandalwood, incense and jasmine tea lend the nose a sense of refined age. Time takes this theme further; mentholated notes of spearmint and fennel seeds build alongside a little sweet marzipan, camphor and leather.
Taste:
Very fruity on delivery; mango, papaya and those floral tea suggestions found on the nose. The menthol notes come through but remarkably the fruit continues to develop with clementine, a hint of peach and baked apples. Past the mid palate the years in oak take control with soft, ginger-led spice and a certain refined bitterness; green tea, precious woods and pine resin.
Feel:
Silky, gently coating.
Finish:
Medium length with rounded old leather and softly resinous oak taking precedence above flickers of sweet orange and mint.
Comment:
Another excellent selection and one, for this taster at least, that does indeed manage to sit just a shade above the bulk of these Tomintoul's. The nose in particular is wonderfully complex and layered, almost worth the price of admission in of itself. Overall though, this is a refined old Speysider and while the age may be obvious in places it is worn with grace and a good deal of elegance.