Longmorn distillery has a sustained and excellent reputation amongst blenders and whisky lovers alike. The rich, well flavoured make serves as a good top-dresser for blends and, happily for us, delivers some exceptional casks when the independent bottlers get involved. Sadly the distillery remains quite under-represented as a single malt in its official form, with its current owners (Chivas Brothers) restricting its range to a fairly underwhelming Longmorn 16 year old and Cask Strength 1997 Limited Edition. It would be a great pleasure to see this expanded as these few official releases often leave Longmorn overlooked and under appreciated by newcomers.
This 1976 bottling was released under The Whisky Agency's frequently outstanding "Perfect Dram" label last year and, predictably, sold out almost instantly. Along with several other fairly new bottlers like Malts of Scotland, Thosop, Asta Morris, The Nectar/Daily Drams, The Whisky Man etc, The Whisky Agency has built a remarkable reputation due to the quality and consistency of its selections. While many of these bottlers have released high quality Longmorn's from the 70's, it is this bourbon cask from 76 and the incredible 1972 Perfect Dram/Three Rivers Tokyo Sherry Cask released in 2010, which seem to shine about the others.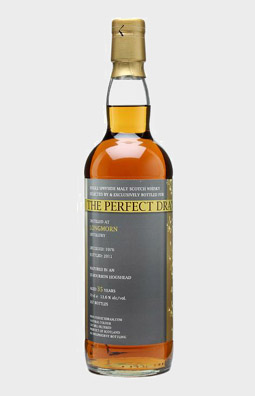 35 year old, 1976, The Perfect Dram 2011, The Whisky Agency, Bourbon Hogshead, 53.6% abv, 187 btls.
Nose:
Wonderfully full and expressive with a mix of beeswax, polished oak (old church pews, anyone?), warm apricot jam and thyme honey. Next comes some fragrant pollen and white chocolate surrounded by further fruit notes; ripe papaya and mango puree. After a few minutes things get even more complex with hints of shortcrust pastry, fresh vanilla and frangipane, all dusted with a little dried ginger and fennel seed. A truly excellent nose; rich, warm, honeyed and completely enticing.
Taste:
Ah, just as the nose would lead you to hope at the start; dense, ripe fruit notes of papaya, juicy apricot, clementine and a hint of honeydew melon, soon followed by some gently pepper spice, cinnamon and clove. A touch of the beeswax and old oak from the nose sit in the background, while mixing with the fruit, ginger and hints of old leather-bound books.
Feel:
Viscous, coating and full.
Finish:
Quite long, on gentle spice wrapped in more warm apricot jam/beeswax/honey, touches of mint and star anise.
Comment:
A truly beautiful Longmorn and one of the best releases I had the pleasure of tasting last year, which is no mean feat considering the sheer quality of casks we have been seeing. Its warm, enticing, richly fruity and although, predictably, the nose outshines the palette just a touch, it takes little away from the overall quality. This is sadly long gone now but if you do stumble across a bottle, you would struggle to find a bourbon matured Longmorn to better it.