As far as any single scotch goes, Littlemill whisky must surely be a prime candidate for surprise of the year. Cask after cask –shared or otherwise – has come to the market and regardless of bottler, quality has been exceptionally high. The refill or bourbon casks have been both fresh, zesty and rounded while the sherry casks (such as the Littlemill 1988 Archives we reviewed in August) have offered varying degrees of contrasting, dark-fruited richness.
This example from the good chaps at The Whisky Barrel comes under their popular "Burns Malt" series and is listed as a Sherry Cask. Judging from the colour, it's from fairly inactive refill wood and may therefore serve as a perfect contrast to that aforementioned, well sherried Archives release. What a shame it is that, along with a number of much loved distilleries, we are discovering such quality only after Littlemill is lost to history.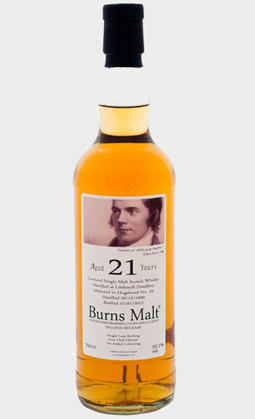 1990-2012, The Whisky Barrel, Burns Malt , 55.1%abv , Sherry Cask #35.
Nose:
A lovely, fresh and delicate start; green apples and dry cider balanced by a little crisp, sweet malt. Acacia honey adds richness, alongside some gentle floral notes of dried roses and honeysuckle. Hints of chalk add a nice dry edge while a mix of white chocolate and mint crisp builds interest. Water brings forward some fresh laundry associations that, should you add a little too much, flirt with faint soapiness.
Taste:
A wonderfully sweet/sour delivery at full strength and with a greater width of fruit than expected; pink grapefruit, pickled pineapple and a hint of passion fruit. This range of slightly sharp fruit mellows into a creamy sweetness of vanillin-rich oak and white chocolate sauce. Water evens out the development and in doing so broadens the fruit into a beautiful, honey laced fruit salad of clementine, grape, peach and honeydew melon.
Feel:
Coating but with a lovely crisp edge.
Finish:
Medium length with a mix of mellowing fruit, that creamy vanilla and a distant, bung cloth-like dustiness.
Comment:
Another excellent Littlemill then and one that encourages some experimentation with water. The clean, spring-like nose at full strength is quite lovely, while a drop of water rounds the palate and makes for a deeply fruity profile; almost reminiscent of the spate of similarly excellent Glenturret's we have been seeing this year. Spend some time getting the balance just right and this is up there with any of these recent Littlemill's.
Find the best price to buy Littlemill 21 year old