Littlemill is a name that some will be quite unfamiliar with, however given a brace of excellent casks reaching the market over the last few months that is surely set to change. This sadly closed Lowland distillery once held a claim to being the oldest in Scotland but after difficulties during the industry's early/mid 80s slump and further problems just a decade later, 1994 would see its final runs of spirit. For a time it looked like a revival remained possible, but after much of the plant was dismantled in 1996 and a fire ravaged the site further in 2004, this faint hope seems less likely than ever.
Towards the end of its life Littlemill distillery saw some exposure as a single malt, though on the strength of an unremarkable 8 and 12 year old it failed to draw great praise. Things are changing now though, as the spirit distilled in the late 80s and early 90s comes of age and finds its way into the hands of the best independent bottlers. Recently we have seen a mix of fairly naked, zesty releases alongside examples with a much greater sherry influence. Both styles have their own merits of course and in the end it's a matter of taste, but it's hard to deny that the best sherry casks find a fantastic balance between edgy citrus and a polished, fruity roundness.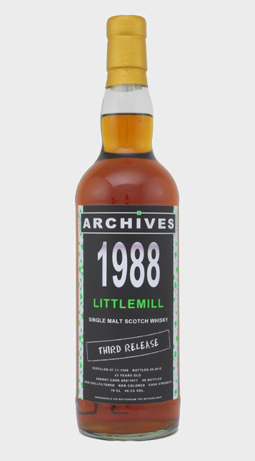 Image with thanks to Whiskybase
23 year old, 49.3%abv, sherry cask #08/1077, 48btls
Nose:
A sharp and very aromatic fruitiness up-front; red currant, tangerine, black cherries and hints of pink grapefruit alternate with a beautifully polished layer of beeswax and old rose petals. There's a certain flinty, stone-like quality around the edges alongside touches of kirsch, plum stones and almond liqueur. A suggestion of raw cane sugar mixes with the fruit over time.
Taste:
Some greenish, bitter-edged oak on delivery alongside a gentle grapefruit sourness and new leather. A hint of cardboard appears but is quickly surpassed by a building blend of ripe, yellow plum and tangerine. Turning quite herbal and peppery towards the finish with some fresh coriander, mint and chilli jam.
Feel:
Rich, lively and coating.
Finish:
Quite long with the herbal notes and gently toasted oak playing the lead role. A little ginger (candied), clove and leather persist in the length.
Comment:
Quite a ride, a very expressive nose paired with a slightly nervous, conflicted palate. Reminds me of an excellent sherried '81 Lochside in parts, particularly given the fruity yet flinty nose and the sour edge on the palate, but feels a little unbalanced through the development. Regardless, a very attractive and beautifully sherried (on the nose at least) Littlemill.