The island of Jura is a place of deep beauty, feeling far more remote and isolated than its neighbouring Islay and where this Island of peat is home to eight celebrated distilleries Jura boasts only one. It is a significant one in the U.K market though and, in its 10 year old form, is a staple among widely available supermarket malts. However, even with this undoubted success and some peated releases to draw extra interest, Jura whisky remains quite unloved beyond casual whisky drinkers.
The quality of the standard range has risen markedly in recent years, yet only the older official bottlings and interesting examples from the Independents pique the interest of many. Personally I can understand some of the misgivings associated with the Jura 10 year old, but have tasted a few beautiful old Jura's in the past and feel the distillery often gets rather unfairly overlooked. This is where quality cask selection comes in of course and, having spoken about the Jura Archive bottlings before, we can pour this one with quite some optimism.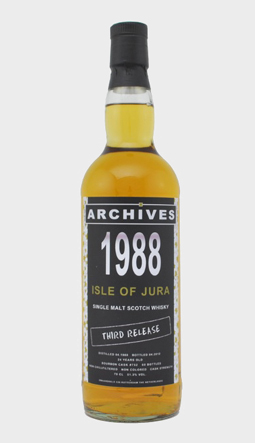 24 year old, Archives 2012 (third release), c# 752, 60 btls, 51.3% abv.
Nose:
This is interesting with some curiously farmy suggestions up-front; goats cheese, bailed hey and faint whiffs of manure. A mix of gentle coastal notes and light, fresh fruit begins to show through with notes of apricot, plum, under-ripe pineapple and damp sand. A faint thread of wood smoke and leather develop with time, while water draws out a little Kumquat. Quite complex all round, very entertaining.
Taste:
Fruiter than expected with lovely hints of bergamot, orange and dried apricots backed by a building range of aromatic herbs; lemon tyme, dill and then floral hints of jasmine. Delicate clover honey sweetness mingles with toasted almonds, delicately farmy peat-smoke and contrasting hints of grapefruit oil into the finish.
Feel:
Supple and coating but with a clean edge.
Finish:
Medium length with gentle oak bitters, dried grass, light kumquat fruitiness and jasmine tea.
Comment:
A rather unusual Jura with a curious, highly attractive set of farmy notes and beautifully aromatic herbal qualities. Excellent cask selection and an easy one to recommend, particularly if you fancy a change of pace and haven't found yourself convinced by more conventional examples of the distillery.