After Tuesday's review of the ever-excellent Lagavulin 16 year old, it seemed like a fair idea to stay with the Islay whiskies for one more dram and head just a mile up the road to Laphroaig distillery, the Island's best-selling single malt. Laphroaig is often said to polarise opinion with its profoundly medicinal, phenolic spirit frequently confounding Whisky newcomers, while cultivating a loyal following of initiated devotees. There are some of us though that have less overtly partisan feelings about the distillery, enjoying a number of bottlings and certainly not being adverse the spirit's brazen, intense character, whilst also not being so enamoured as to view it as the undisputed king of peated whiskies.
Laphroaig's core range has developed a reputation for its consistency over the last few years, with the Laphroag 10 year old and Quarter Cask expressions being very reliable and well worth exploring. However, the consistency of quality also means that cask strength expressions from the independent bottlers have been a pretty safe bet for some time. For fans of the distillery wishing to experience a less "branded" or even "tamed" (40%abv and/or chill-filtered) version of Laphroaig there are a plethora of credible options on the market. This bottling from the recently introduced Archives series is one such option, and if the other new releases in their range are anything to go by this should be a good example.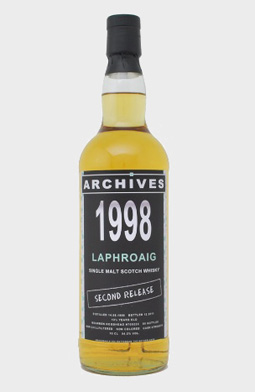 13 year old, 54.2% abv, c# 700228, Bourbon Hogshead, 80 Btls
Nose:
Quite an intense and bracing first impression with classic saline peat, coastal freshness and sherbet lemons. The distillery's typically medicinal markers are also present; iodine and treated bandages with the smoke growing more earthy and slightly ashy. All very direct and not terribly wide overall, but given more time some further notes of smoked almonds, butter and bracken start to come forward.
Taste:
Very direct and potent on delivery as expected; a sweet/sour/salty mix of sooty peat and stewed lemons with the medicinal notes woven through the centre. The bandags, tarred rope and rock salt in full force through the mid palette with some vanilla sweetness beginning to round things off heading into the finish.
Feel:
Coating and beautifully oily.
Finish:
Long and growing more briny with seaweed followed by threads of sour citrus, white pepper, ash and those ever present, classically Laphroaig, medicinal notes.
Comment:
A very direct, bracing and uncompromising Laphroaig with all the distillery's classic hallmarks, and as such one that should please lovers of the distillery and "peat heads" alike. Not the most balanced or wide of whiskies certainly but this clarity is half the fun here and would make this ideal for drinking outside in typically British weather (well at the moment anyway), or even better, the ever beautiful windswept shores of Islay itself.