After May's review of the Glenfarclas 21 year old, it was never going to be long before we began to delve deeper into the distillery's incomparably vast selection of bottlings to taste the sort of drams that typify Glenfarclas whiskies; long-aged, rich and deeply sherried. The 60s are often thought to have produced some of the distillery's greatest moments (check out Luc Timmermans' 1968 bottlings) so this '66 seemed like a fair place to start what (I hope) will be the first of many Family Cask reviews.
Glenfarclas is one of the few distilleries that can reach these advanced ages with considerable ease, even perhaps requiring great lengths of maturation for the best of its richly oily, sherry-oak-friendly spirit to develop. However, this type of whisky isn't for everyone and while many people adore an old "sherry monster" such as this, others can find the cask influence erodes the spirit character while the age adds too much resinous oak. Personally, I often find myself in the mood for such bottlings and though many tread a fine line, few distilleries pull the style off with the regularity of Glenfarclas.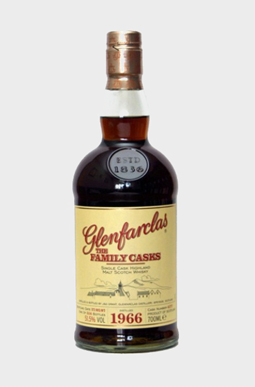 Image with thanks to Whiskybase
Family Casks VIII, 51.1% abv, c#4186.
Nose:
Big, spicy sherry with pine resin, threads of sweet pine tobacco and rich fruit notes of spiced orange preserve, dark fig paste and hints of sharp blackcurrant jam. Dark chocolate comes next, then joined by some dusty spice of coriander seed and cardamom. Water draws out a new range of notes that starts with a little strawberry syrup and prune before moving on to a touch of fresh mint, marzipan, sarsaparilla, young balsamic and a whiff of dunnage floor. Huge, clearly old and very complex.
Taste:
Peppery oak on delivery with fresh nutmeg, ground fennel seeds, clove and pine resin leading on to a layer of dark fruit; blackcurrant jam and tamarind paste. A little old fashioned liquorice and cough syrup take over from the fruit and shift towards chewy, slightly resinous oak. Clearly old and without the width found on the nose, but that's quite normal at this age.
Feel:
Full, coating and velvety.
Finish:
Long, mellow, slightly sappy and showing some nice green tea, mint and bitter nut notes. Old leather chairs, tobacco and pine persist in the length.
Comment:
A classic old Glenfarclas in just about every department, big rich sherry with great complexity on the nose and huge body on the palate. It's not quite a flawless cask given that -nit-picking here - things feel just a shade oak heavy and this dominates the palate somewhat. In all honesty though this is a deeply classy whisky, very much in line with most of these 60s casks.