There's so much to say about Glenfarclas whisky that it can be somewhat difficult to know where to start. Given that this is the first of what will be many posts to feature this venerable distillery, it seems only fair to highlight a few of the things that make Glenfarclas so special in the modern world of Single Malt Scotch. Situated in the rolling valleys of Ballindalloch, this Speyside distillery is unusual in having been family owned since 1865, with the Grant's consistent stewardship having allowed it to avoid some of the modernisation common throughout the majority of the industry. The stills remain direct fired to this day, the full production is matured on site and the stock held in the warehouses is perhaps the most far-stretching and comprehensive of any distillery in Scotland.
Just this last week the sheer depth and wealth of the casks maturing at Glenfarclas was highlighted once more by the announcement of their oldest release yet; a 58 year old and one of the last four casks filled in 1953 left at the distillery. It is these old and frequently heavily sherried bottlings that have helped to cement the Glenfarclas reputation for quality. In all the reverence that surrounds the distillate produced in 50s, 60s and 70s, the standard releases can become a little overlooked, so before we get to posting reviews of those old sherry monsters (restraint can only last so long), let's have a look at the more widely available 21 year old.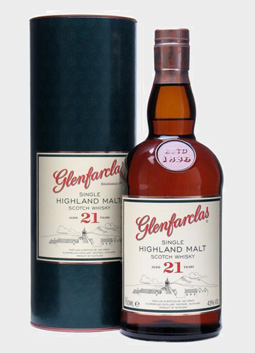 43% abv, Distillery Bottling.
Nose:
A very balanced and integrated first impression with notes of pears and red apples soaked in delicately spiced syrup, alongside a big roasted nut presence of almonds, macadamias and even peanuts. Some further sweetness develops after a few minutes with toffee and mixed candied peel, while some hints of dusty cigar wrapper and iron tablet give a pleasing impression of age. A faintly sooty smokiness appears late on also, and with a quite surprising note of sweet rose syrup.
Taste:
Sweet maltiness up front at first but soon followed by a contrasting and slightly bitter hint of walnut skin. Almond paste and a mix of soft orchard fruit come next; poached pears and the red apple found in the nose. The oak moves centre stage past the mid palette as a gentle spiciness begins to take hold; classic notes of cinnamon, nutmeg and some sappy suggestions of pine resin.
Feel:
Soft and very gentle but just silky enough to avoid feeling watery at 43%.
Finish:
Medium length and turning quite dry with a toasted nuttiness of walnuts, little sweetness to speak of and more of the earlier spices/resinous suggestions surrounded by a certain waft of bitterness.
Comment:
These vatted Glenfarclas bottlings offer a more integrated take on the distillery's character with the mix of sherry and bourbon maturation each taking their respective opportunity to express themselves as the spirit evolves in the glass. Whilst this 21 year old is not my favourite bottling in the standard range it certainly manages to be both varied and challenging enough to hold your interest, while remaining relaxed and undemanding enough to feel comfortingly familiar. A bottling that's well worth tasting as your discover this wonderful distillery's large and varied range.
Find the best price to buy Glenfarclas 21 Year Old