Glen Garioch is a curious little distillery with a long and varied history. Founded in 1797 and often a key name in discussions about the oldest of Scotland's distilleries, Glen Garioch distillery is currently in the hands of Suntory alongside Bowmore and Auchentoshan. Like Bowmore, the distillery has a reputation for distinct changes in style between the 70s, 80s and 90s, as peating levels seemed to drop over time and the 80s brought about a sometimes soapy, floral component to the distillery character. Those familiar with Bowmore's FWP years (take a look at Dave Broom's E-Pistle for the Malt Maniacs) may approach some 80s Glen Garioch with similar caution.
Happily, the 90s take the comparison further as, like Bowmore whisky, the spirit seems to throw off its frequent lavender-soap associations and returns to an old-school, dusty, faintly smoky highland character. This is great news as some bottles from the 60s and 70s (no need to mention Bowmore again, is there?) have deservedly excellent reputations, and it's good to see Glen Garioch's standing among whisky geeks growing once more.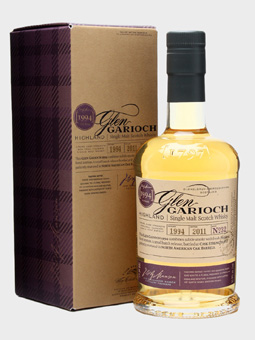 53.9%, Official Bottling 2011, batch No 32, North American oak barrels.
Nose:
Quite cereal heavy, dusty, chalky and youthful at first, with a growing background of clean garden fruit; green apples and underripe pear. A touch of clarified butter and dried grass sit around the edges but this feels like it will benefit from water. Swims very well indeed with an added richness to the fruit; red apples now, cherry plums and some lovely mineral notes of gravel and sack cloth backed up by a little lemon rind and charred wood.
Taste:
Direct and compact on delivery with barely sugar sweetness and soft wood smoke in equal measure, before some juicy apple begins to mix with the biscuity cereal notes and a nice hint of pineapple cubes. As with the nose water works well in drawing out some extra depth; vanilla, burnt grass and a vibrant herbal edge of dill and bracken.
Feel:
Clean, supple and faintly oily.
Finish:
Not particularly long but clean and well balanced on old smoke, damp rocks, faint toasted oak and the herbal, leafy notes. Hints of poached pear, mint and a wisp of spice remain at the death.
Comment:
A spirit-led bottling that wears its youthful vivacity well and, alongside the certain mineral complexity and gentle phenolic component, it's clearly one for us "old-school" Highland fans. It's a release that fully highlights the 90s spirit quality and, with any luck, is a good indicator of what we can look forward to as these casks mature further.
Find the best price to buy Glen Garioch 1994