[Editor's note] This is the first post by Tim Forbes who joins us as a new regular contributor. We're delighted to welcome Tim to the Whisky Marketplace Blog team. Take it away Mr Forbes...
Distilled by one of the USA's largest producers, Heaven Hill, Elijah Craig is one of the company's flagship long-aged bourbons, alongside Evan Williams. The eponymous Reverend Elijah Craig was something of a firebrand minister and part-time distiller, who was once briefly imprisoned after his sermons were found to have caused a breach of the peace.
The Revd. Craig's lasting contribution to world culture was not religious subversion, however, but ironically something rather more mellowing – he is claimed, probably apocryphally, to have been the first bourbon producer to discover the softening effect of burnt barrels in the maturation of his whiskey. This miraculous discovery supposedly came about as a consequence of the minister being too tight-fisted to replace his barrel stock after a fire at the distillery had damaged them.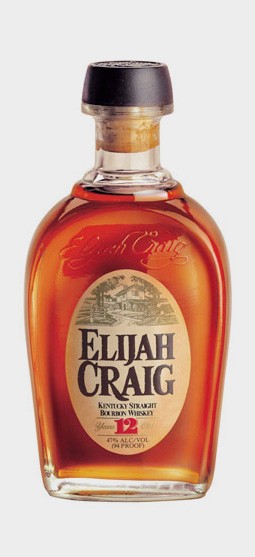 ABV: 47% - Size: 70cl
Nose:
A beguiling combination of chocolate-coated crystallised ginger and bitter orange marmalade. Notes of polished wood and hints of gentle cake spices.
Taste:
The orange is more dominant on the palate with hints of green leaves, though the chocolate element is also present in the form of a cocoa powder note. The oak is more evident on the palate than on the nose, with well-integrated clove and cinnamon. The higher-than usual 47% strength gives this good concentration and bite.
Finish:
Pleasingly sweet with dark chocolate and sweet orange, plus the reappearance of the ginger from the nose. Not dissimilar to a gingery Jaffa Cake.
Comment:
Between Heaven Hill's flagship brands, the consensus has always seemed to favour Evan Williams, perhaps because it's bottled as Single Barrel. But I've always preferred Elijah Craig for its potency and straightforward drinkability.
Find the best price to buy Elijah Craig 12 Year Old