Putting aside the dubious nature of regional flavour profiles in Scotch, it's probably fair to suggest that the active Lowland distilleries receive the least attention of any. In the past the styles of whisky being produced in the borders of Scotland were fairly wide ranging, with the likes of St Magdalene distillery and Littlemill producing a spirit that diverges greatly from what is often marketed as the "classic" Lowland style today. Auchentoshan distillery typifies the light, sweet and clean spirit character that is now associated with the region, and while it has some firm followers it is sometimes passed over as a pleasant but ultimately unremarkable single malt.
This entry level distillery bottling might not be the best selection should we wish to dispel the distillery's reputation for mediocrity, but before we charge into more unusual and older examples of Auchentoshan's output its worth taking a look at what is a good quality, highly accessible Auchentoshan 12 year old. After all, this type of bottling is a platform for discovering the joys of whisk(e)y, and filtration and colouring apart you could certainly do worse than a dram of this over rocks on a warm summer's day, or as an introduction for those who might find your cask strength Ardbeg just a little overpowering.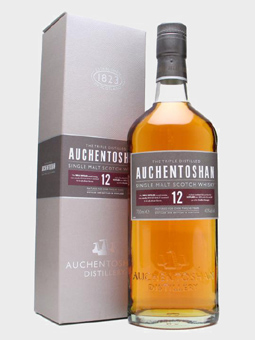 Official Bottling, 40% abv.
Nose:
Lots of clean raw barley and vanilla at first nosing, the American oak influence being obvious and making for an instantly sweet, attractive first impression. The cereal notes begin to make way for a mixed red apple and fresh plum fruitiness that develops further on a classically Auchentoshan nuttiness; almond oil and malty sweetness. A little orange oil and honeysuckle come through with time.
Taste:
The oak speaks first with more vanilla and a spicy mix of ginger and nutmeg in abundance. A little faintly sour, yellow apple note comes forward as the spice subsides and is joined by sweet malt, light honey, almonds, butter and grain. Direct and straightforward but nicely composed.
Feel:
Light, slightly thin.
Finish:
Short but well balanced between the oaken gingery spice, gentle garden fruit and vanilla.
Comment:
As expected, an unchallenging, thoroughly modern, easy drinking single malt whisky that has just enough character to avoid being entirely anonymous, while the copious quantities of sweet barley and heady vanilla make it infinitely accessible. It can be difficult to know just what to feel about whiskies such as this, on one hand they may represent an overall increase in quality at the lower end of the market, on the other, serve as an example of the homogenous impacts of maturation in active, vanillin-rich oak.
Find the best price to buy Auchentoshan 12 year old