Where do you start with a distillery like Springbank? A surviving bastion of old fashioned whisky making, flagship for what was once Scotland's most prolific distilling Campbeltown region and producer of some of the most legendary whisky ever distilled. It's an impressive resume without question and for anyone who tastes the very best bottlings, one that translates to quite incredibly beautiful, amazingly complex whiskies. Those most desirable, now highly collectable, releases such as the '66 Local Barley, Millenium Set, Cadenhead dumpies and even the old Springbank 21 year old botltings are ideal examples which simply must be tasted to be believed. Fear not though, you don't have to take on a second mortgage or befriend an old millionaire with possibly dubious intentions to enjoy the distillery's wares.
Modern Springbank is perhaps the last stronghold of truly old school mineral, sooty, difficult whisky left in Scotland, remaining beautifully characterful and densely oily. Much of this is surely down to the on-site floor maltings, direct firing and total absence of automation that still proliferates at Springbank distillery. This adherence to "the old ways", while most of the industry moves in another direction, makes this distillery deeply important to anyone who values this style of whisky making. This is the first Springbank review to feature on the blog though, so this time round we're tasting an oldie that could potentially be quite special. The reputation of '60s Springbank has already been mentioned as something rather spectacular and this '65 bottling from Murray McDavid seems like a fitting place to begin.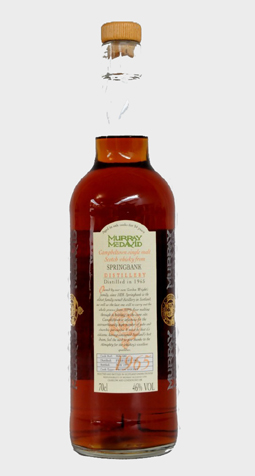 Bottled 1999, c# 586, 46% abv.
Nose:
A fabulous old-sherry arrival that mixes fresh berries; blueberry, blackcurrants with hints of glorious rancio, dunnage floors and oiled jute rope. Flickers of green, over-ripe fruit show through alongside beautiful hints of fruity, well-aged balsamic, grape musk and a range of dried herbs. Suggestions of old candle and beeswax develop with time as the complexity seems to grow evermore endless; soot (old fireplaces), pine, juniper, hibiscus, oyster shells.
Taste:
Quite surprising on delivery with an early greengage sourness, lemon thyme and a thread of salt. Pine resin builds towards the mid-palate, though things never become overly drying, and the lovely hints of blueberry, coal soot and old warehouses begin to pull through. A faintly metallic suggestion; graphite oil and some lovely herbal liqueur qualities develop toward the finish while that unusual hibiscus hangs at the edges.
Feel:
Rich and oily.
Finish:
Long and beautifully balanced on sweet, air dried ham, faint stewed fruit and rancio. The herbal notes drift towards green tea while the suggestions of spent fireplace and just a hint of fennel seed round things off.
Comment:
The nose was simply remarkable, utterly old Springbank, constantly developing new layers, each both in compliment and contrast to other elements of the profile. The palate was of a lower quality globally, particularly on delivery, but develops into something that is undeniably wonderful past the mid palate and in to the finish. Is this the best '60s Springbank? Certainly not, but its glorious whisky and that can only be a testament to just how good these old Springer's can be.