Back to Islay today and a chance to look at what, since the sale of Bruichladdich distilery earlier this year, is the island's only remaining independent distillery. A sad thought perhaps but the young Kilchoman is flying the flag for small scale production with considerable aplomb. Opening in 2005 as the island's "farm distillery", Kilchoman was always intended to offer spirit that was sown, grown, malted, distilled and bottled on Islay. However, in order to deal with the considerable pressures that face any new distillery, the majority of the production has relied upon barley sourced from external maltsters.
The desire to taste whisky from Islay's first new distillery in 124 years was always going to be considerable. Indeed, since opening Kilchoman has offered a surprisingly constant flow of offerings. It's fair to say that the spirit quality has always met with wide acclaim; however the same may not be said for all of the sometimes pricy releases. That is always a hazard of offering whisky that is clearly in a process of maturation rather than at the peak of its powers of course, though in my view Kilchoman distillery is not the very worst of culprits. This bottling draws us back to the beginning of the story though; the first release of a true, 100% Islay produced whisky and that must surely pique the interest of any whisky lover.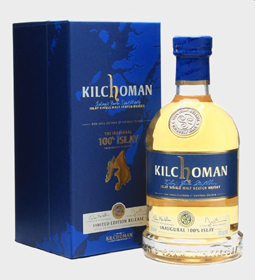 Inaugural Release 2011, 50% abv.
Nose:
A very attractive, vibrant first impression that blends ashen, yet measured coal smoke with some crisp cox apple, grapefruit juice and clean, freshly peated cereals. As expected given the age, there's no huge width here but the developing sense of balance is already excelent. Time brings forward some creamy vanilla, sour cream and crushed gooseberry notes while water pulls out a surge of golden sugar sweetness.
Taste:
A lively delivery indicative of youth but not at all raw; wafts of smoke that shift between shores-side bonfires and a more coastal, salt crusted peatiness. The fruit grows more prominent through the development; juicy, faintly sour apples, green plums and mixed peel. A little damp limestone minerality and "clean" hey add interest towards the finish.
Feel:
Rich and oily, yet always clean.
Finish:
Quite long and with a nice oily character. Gentle threads of mellow coal smoke mingle with vanilla-enriched sweetness and the lovely, contrastingly dry fruit.
Comment:
An excellent young whisky and one that, should you be of a romantic persuasion, takes on an even greater importance. It's a cliché of course but Islay is a truly magical place and the mere thought of whisky production taken from the very earth of the Island, right through to the dram in your glass, simply warms the heart. Yes, we are certainly a long way from what this fine spirit will eventually offer, but that in itself is reason enough to revel in these early days and look forward to the future.
Find the best price to buy Kilchoman 100% Islay