The name Highland Park is preceded by a reputation for considerable consistency and the general quality of its ever-expanding range. The distillate is well known as one of the most balanced and multifaceted of any produced in Scotland, bringing together a sweet fruity elegance, dry coastal character and threads of aromatic, delicately floral smoke. That said, in recent times the brand's focus seems to have shifted somewhat from subtle, flavour-led marketing to premium packaging and a greater emphasis on limited editions and themed releases.
The ultra-premium "Orcadian Vintage" bottlings aside, I can't say that this new area of Highland Park whiskies has been entirely convincing. Several bottlings have come across as having rather more style than substance and, depending on your point of view, you may wish to see less of the RRP being directed toward packaging. So, on to the old favourites then and they don't come much more classic, reliable or respected than the standard 18 year old. It's a release that has earned awards all over the world and a following that makes it a permanent fixture on many a whisky lover's shelf.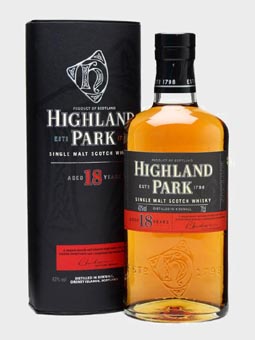 43% abv
Nose:
A very fragrant and juicy first impression with a fresh fruitiness of poached pears, red apples and a touch of tangerine. These bright notes are followed by richer suggestions of chewy toffee, walnuts, candied pineapple and sultana, all wrapped in a building swathe of slightly floral, heathery smoke and a hint of pink peppercorn. After some more time things get slightly fuller still with some mocha, honey and a hint of rubber.
Taste:
Starts out on a good amount of orange and red apples with some grassy notes and a developing set of toasty, oaken spices; clove and dried ginger. The smoke begins to build alongside heather honey, cocoa powder and a little buttery toffee. Everything is beautifully integrated as it shifts between sweet and dry notes.
Feel:
Quite gentle, almost soft but with just enough richness at 43%.
Finish:
Just a little sappy and with a thread of bitterness now; orange peel but balanced with gentle remnants of aromatic smoke, honey and a soft touch of spice.
Comment:
This is every bit as I remember it, only with a touch less rubber than I had noted in some recent batches which is certainly a good thing for this reviewer at least. The mix of different notes, all in harmony and providing balance to one another, is what Highland Park is best known for and this 18 year old is probably the best example of this in their range. At this price point, and with such wide availability and consistency, this remains every bit the classic it always was.
Find the best price to buy Highland Park 18 year old