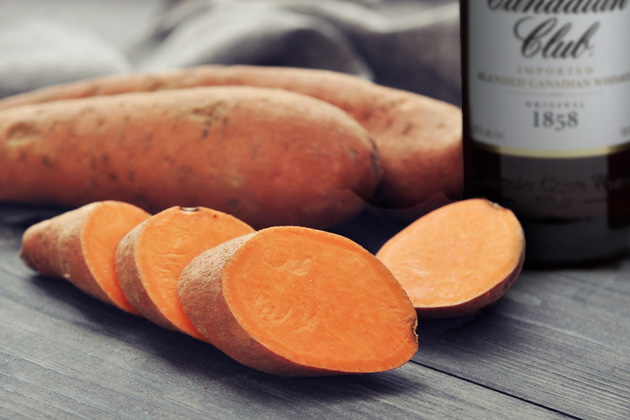 Simple and quick to make, these sweet potato fries will make the perfect addition to any meal!
Ingredients:
2 large sweet potatoes
¾ cup Canadian Club whisky
¾ cup maple sugar
3 tablespoon olive oil
½ teaspoon pumpkin pie spice
Salt and ground black pepper
Directions:
Scrub sweet potatoes until clean and then slice into 1/4 rounds. Use mini cookie cutters to cut stars and pumpkins into the center of each sweet potato slice. Or, use a small knife and carve a Halloween icon into the sweet potato slices (you could ask your children for some ideas on this to involve them).
Place the sweet potatoes in a bowl and microwave for 3 minutes to soften.
Remove the bowl from the microwave and allow to cool for 2 minutes. Then pour the Canadian Club whisky over the top. Cover the bowl and leave to soak for 15 minutes.
Remove the sweet potatoes from bowl and place on a parchment-lined baking sheet. Drizzle with olive oil, sprinkle with pumpkin pie spice and seasoning. Bake in an oven preheated to 200°C. Heat the remaining whisky from the bowl and maple sugar in a pan on a low heat for a couple of minutes. Remove sweet potatoes after 10 minutes, and pour the whisky glaze over them, shuffle the fries around to ensure they are all coated with glaze and return to the oven for a further 8-12 minutes until tender.
If you fancy putting your own twist on this, try swapping the pumpkin spice flavoring for something else such as thyme, or curry spice. Or, if you're not a fan of sweet potatoes, you could use the same method for potato wedges, butternut squash etc. We hope you enjoy this recipe from Whisky Marketplace!