Of late, these '77 Glenturret whiskies have been a highlight in the outturn of a great many independent bottlers. The Whisky Agency, Malts of Scotland, Maltbarn, Master of Malt and a number of others have all taken turns in sharing casks from this esoteric distillery, and without exception these have been high quality, good value releases. In many ways this veritable flood has really put Glenturret on the map as a slightly unusual yet very charming whisky, deserving of much more attention than it generally enjoys.
This particular bottling comes from the rather reliable Berry's Own Selection range. Doug McIvor, Berry Bros and Rudd's Spirits Manager, is responsible for the company's own label whiskies and reportedly holds this particular Glenturret in high regard. Doug is not a man known for disingenuous enthusiasm which makes this praise, and bottling, of particular interest. It's worth mentioning that the distillery is home to The Famous Grouse Experience, a notable tourist attraction that regularly sees yearly visitor figures in excess of 100,000 and lends Glenturrent a measure of more widespread notoriety.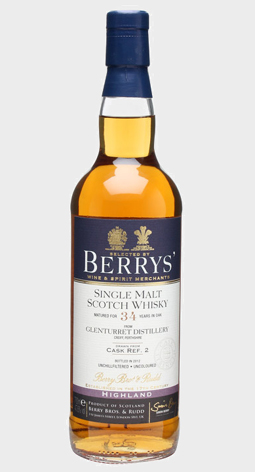 Berry Bros and Rudd,1977-2012, 47.6%abv, cask ref: 2.
Nose:
Fresh, fruity and expressive from the outset; tangerine creams, ripe yellow plum and kiwi with a little hessian and that unusual hint of faintly soured milk common in these '77s. Quite delicate but grows slightly richer with time as acacia honey and a touch of almond cream begin to come through. There's also a certain leafy, gorse like quality in the background that adds some extra depth alongside hints of fresh mint.
Taste:
A lovely translation of the nose; fresh and fruity at first with plum and sweet orange now accompanied but a squeeze of pink grapefruit, apricot, dried pineapple and cedar. Some sweet cereal notes – hobnob biscuits – and the honey come through in the mid palate, as a well measured and waxy wood integration builds towards the finish.
Feel:
Silken, delicately coating.
Finish:
Medium length, creamy and softly fruity with those sustained suggestions of orange and building touches of beeswax. A faintly herbal sourness finally hints at the 34 years.
Comment:
Another beautiful Glenturret and perhaps the most delicate, whispering example I have yet had the chance to taste. A very fresh, elegant whisky that rewards patience while remaining playfully unusual in its odd, yet measured quirks.
Find the best price to buy Glenturret 34 year old