Since being purchased by Billy Walker's BenRiach distillery company, GlenDronach distillery has gone from strength to strength. The single cask releases we have seen over the last few years have shown just how stunning some of the stock resting in the distillery's warehouses really is. Many awards have been won and praise has been heaped upon Glendronach from just about every respected whisky commentator and reviewer.
The name of the distillery alone instantly evokes images of rich, heavily sherried whisky abounding in both complexity and character, with single casks from 1972 being particularly spectacular examples of just this style. The Glendronach 31 year old Grandeur shares this maturation but is a vatting of several sherry casks, bottled in 2010 and at a natural cask strength of 45.8%.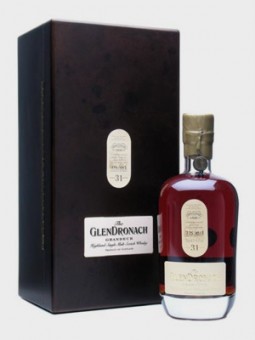 31 year old, 45,8%, 2010, 1013 bottles
Nose:
Sweetly candied sherry and a touch of spent match dominate the first impression. The hints of sulphur fade quickly however and are replaced by a layer of tangerine, apricot jam and some mocha richness. These sweeter notes are accompanied by dryer suggestions of wax polish, cedar, dry walnuts/pecans and a slightly metallic, coppery background note. Interesting and attractive but missing some depth when compared to the best releases from the distillery. Over time some herbal tea, chopped nuts and fresh leather begin to dominate.
Taste:
Just a touch of rubber on delivery followed by some candied orange peel and the mocha notes from the nose. A layer of softly herbal green tea, leather, oak resin and a gentle nuttiness dominate in the mid palette and give things a sense of balance. Towards the finish the oak draws in with a dry dusting of spice and a little ginger.
Feel:
Ideal at full strength; gentle, creamy and smooth.
Finish:
Quite elegant with touches of unlit cigar and an unexpected note of sultana wrapped in softly resinous, oaken spice.
Comment:
Compared with classic bottlings such as single cask 719 from 1972, this 31 year old does feel lacking in some depth, complexity and overall richness. That aside, it is no disgrace to fall short of such revered company and this is certainly another very classy and highly drinkable old, sherried whisky from GlenDronach.
Find the best price to buy GlenDronach Grandeur