It's time for a fireside dram methinks; this new non-age-statement release from the good ladies and gents at Glendronach distillery is aptly timed! In the wake of this year's Malt Maniac's award announcements, the distillery has once again swept a host of accolades including "Supreme Winner" in the ultra-premium category and several Gold Medals besides. Of course, the Maniacs are well known for their love of old sherried malts and indeed these lofty winners were all from the now legendary early 70′s stock.
You needn't think that Glendronach is simply the preserve of the well-heeled, and indeed favourably connected given the scarcity of some single casks, whisky-fondler though. Both the Glendronach 18 year old "Allardice" and the 8 year old "Octarine" and the took bronze and silver medals respectively, which is no mean feat in a competition where all samples are tasted blind and by a number of sometimes disparate palates. Here though we have the latest on-going introduction to the core range, let's see if it has what it takes to take a place among next year's medal winners.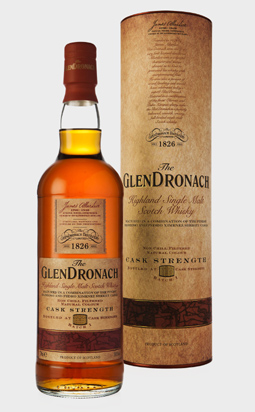 Batch 1, 54.8%abv, 12,000 btls
Nose:
A very promising start with a lovely, somewhat honeyed sherry sweetness, touches of maple syrup and an earthy whisper of struck flint. At full strength things remain a little closed at first but even so, hints of rum soaked sultanas and black forest syrup find a way through. Water draws the fruit forward; sweet clementine and rip yellow plum are laced with ginger cake, a trace of walnut oil and pine cones.
Taste:
Quite punchy and deeply spiced on delivery with lots of ginger (dried and candied), nutmeg and orange rind. Remains rather compact and well integrated with a nice touch of walnut skin bitterness and faintly sour oak contrasting with the sweet yellow fruit and honey through the mid-palate. The nutty qualities persist into the finish as the oak begins to add a notably resinous edge.
Feel:
Full bodied and coating, never cloying though.
Finish:
A classic sherried highlander now; mellow polished oak, soft spices, mocha and an enduring suggestion of mixed candied fruit.
Comment:
Well, Glendronach have done it again! I must confess that I often approach these younger sherry matured releases with some trepidation, beset as many of them are with more than a little sulphur. This however is very clean indeed and offers a lovely blend of light, juicy fruits and deeper, oaken richness. Certainly the palate doesn't quite offer the same breadth as the nose but even still, few distilleries could hope to match this understanding of young, sherry matured whisky.
Find the best price to buy Glendronach Cask Strength