By now you probably know Compass Box whiskies well; indeed since its inception in 2000 John Glaser's self-styled boutique blending company has made quite a reputation for itself. Part of this must be down to their willingness to experiment and push at the boundaries of an often conservative industry, but its undeniable that quality of flavour lies at the heart of the company's continued success. Blends such a Spice Tree, Oak Cross and the ever-popular blended grain Compass Box Hedonism display what the company is perhaps best known for; big, oak-forward whisky full of heady vanilla, spice and a leaning towards rich sweetness.
The Compass Box Great Kings Street series was introduced last year, in part to celebrate their first decade of business, with the debut bottling being this; the Artist's blend. With this release Compass Box are sticking to their ever-present standards and avoiding chill-filtration and colouring (props for this as always), while attempting to produce an accessible, high malt content blend that will suit both those wishing to savour it on its own, or use it as a mixer.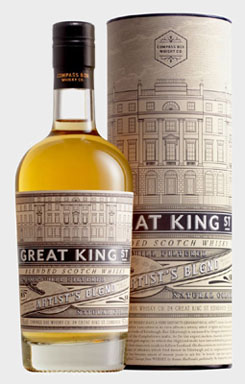 43% abv, 50cl.
Nose:
Quite vibrant and zesty at first with lemon sherbet and some fresh pear sitting alongside gentle cereal notes, hints of blanched almond and some coppery, mineral suggestions. There's also a nice mix of herbal notes; mint and tarragon with building vanilla sweetness, a little under-ripe papaya fruitiness and the softest dab of smoke. This is more restrained and "old school" than much of the Compass Box output, but very attractive and clearly malt-rich.
Taste:
Some notable vanilla on delivery, followed by a lovely mix of fruit; lemon meringue, peach and a swathe of barley sugar sweetness. The light nuttiness and herbs from the nose come next but are quickly followed by building oaken spices of white pepper, nutmeg and ginger. This spiciness is tempered by a welcome waxiness and persistent, gentle sweetness.
Feel:
Light and silky but with enough body.
Finish:
Not terribly long but quite satisfying with fading fruit notes, almonds and toasty oak/vanilla.
Comment:
Undeniably impressive work and for those of us that sometimes find the Compass Box output a little fresh-oak heavy, this delicate and slightly austere blend is a welcome change of pace. There's more than enough depth on show here and the hefty malt content is clearly apparent, but it's also easy to see that this would make an excellent highball or cocktail mixer. Regardless, at this price point, it's near enough impossible to fault.
Find the best price to buy Compass Box, Great Kings Street - Artist's Blend