Originally produced for the US market in 1909, Chivas Regal 25 year old was fairly revolutionary at a time when long-aged whisky was relatively unknown, but the brand disappeared in the aftermath of the Great War and Prohibition and was never reintroduced after Repeal, as it was felt that the Great Depression was not conducive to the successful marketing of a luxury product. Relaunched a few years ago as a limited edition to critical acclaim, happily Chivas Regal 25yo has now been rolled into the ongoing range of one of the world's favourite blends. I don't normally like to talk about presentation generally, but it also looks great.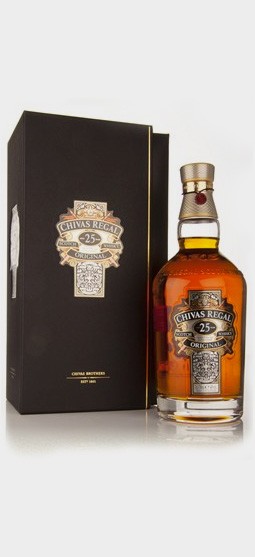 ABV: 40% - Size: 70cl
Nose:
Rich sherry presence, with strong raisin and honeycomb, toasted malt loaf, date, treacle and rather a lot of polished oak, though the fruit is strong enough to handle it.
Taste:
Silky-soft, with strong oak again, manifesting as creamy vanilla and polished, heavily-varnished old wood. The sherry is here as well – Christmas cake – along with a faint but definite hint of smoke and some autumnal dried leaves.
Finish:
Some metallic notes, lingering oak, big spices – clove, cinnamon, pepper – and a fresh herbiness towards the death.
Comment:
A classic digestif, and a brilliant winter whisky. Indulgent, and the price dictates that it's not an everyday dram, but perfect for a special occasion at this time of year.
Find the best price to buy Chivas Regal 25 Year Old