Bruichladdich can be somewhat controversial and here at WhiskyMarketplace we have certainly tasted drams from the distillery that draw varied opinions.  These have tended to be part of the distillery's wide range of the extra matured (finished, ACE'd etc) bottlings though, and it's fair to say that they are frequently a hit and miss affair for many whisky lovers.
This is the first 10 year old entirely distilled by the current owners and it is a great pleasure to see the new output reach this significant age.  My honest hopes were to find a Bruichladdich whisky that reminded of the original predominately bourbon matured releases seen shortly after re-opening, and could at least be considered of similar quality.  Since reopening in 2001, we have seen the Laddie team weather those undoubtedly challenging first nine years and, in releasing this landmark 10 year old, solidify the future of this charismatic rhinns distillery.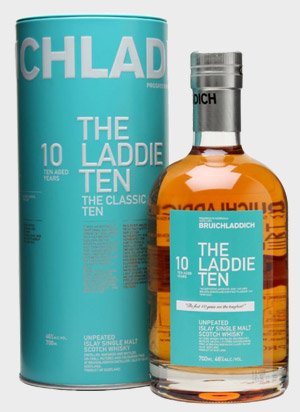 70cl 46% abv
Nose:
An interesting first impression, both with a notable coastal freshness and a slightly musty/mossy, dunnage warehouse type note (perhaps from the few Sherry casks in the mix) and a hint of something faintly vegetal. Things calm down quite quickly though with a lovely mix of zesty lemon and the distillery's classic honeydew melon developing. Alongside this layer of fresh fruit sits another of something more candied with hints of crystalized pineapple and papaya. Given time, some blanched almond develops while the coastal qualities become sandier and more canvas-like.
Taste:
Strikingly coastal on delivery with the sandy marine suggestions and brine upfront. Barley sugars and the candied fruit element build and are tempered by faintly sour citrus, pineapple and soft melony suggestions. Some of the bourbon cask shows itself with a level of vanilla and gentle gingery spice. The brine sweeps back into view but is balanced by toasted oak.
Feel:
This is the argument, if it can be called an argument, for avoiding chill-filtration: richly coating and with an entirely positive, supple oiliness.
Finish:
Medium length. Quite lemony and still distinctly maritime while remaining softly fruity throughout and with a degree of firm, yet balanced oak.
Comment:
Bruichladdich tends to polarise opinion, but regardless of where you might stand on their forthright marketing or often bewildering and variable array of releases, it is certainly hard to deny the romance of the place, its story or the irrepressible passion of its staff. Happily, it's also hard to deny the quality of this new entry level bottling and I can think of few such releases to choose above it. An uncompromising and excellent "daily" dram.
Find the best price to buy Bruichladdich 10 year old 'The Laddie Ten'