Last time we reviewed a BenRiach whisky on the blog it was a prime example of the sheer brilliance of the distillery's output during the mid-70s. There's no question that such bottlings are joy to taste and that any opportunity to do so should not be missed, but there is more to this reinvigorated Speyside distillery than the uber-fruity oldies. For around 25 years the distillery has done that which is quite unusual outside of the Scottish Islands and produced batches of peated spirit, originally intended for blending.
Since being taken over in 2004 BenRiach has gone from relative obscurity to a position of great importance as a single malt, thus drawing great interest in their slumbering stock of casks. The peated releases might not have gathered quite the following of the very best single casks, but there is no denying that they show a character all their own, being clearly set apart from the Islay whiskies with little medicinal or coastal presence.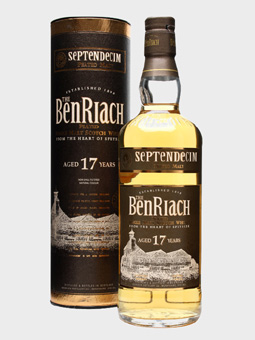 Peated, Official Bottling 2012
Nose:
A dry, sooty and ashen smokiness at first, with a light minerality of chalk and limestone dust around the edges. Touches of walnut oil and canvas find their way through the smoke with a little green fruit developing; gooseberry and greengage. After some time the profile mellows as coal smoke integrates with charred lemons, yellow apples and a damp earthiness.
Taste:
In line with the nose, starting out on the coal smoke, soot and a little tobacco wrapped around a fresh, green fruitiness; more green apples now alongside the gooseberry notes. Hints of "clean" dirt and moss with a dry nuttiness of blanched almond and walnut developing, before a mix of new leather and white pepper build towards the finish.
Feel:
Smooth, gently oily.
Finish:
Quite long on mellow, billowing coal smoke, fresh leather, faintly toasted oak and liquorice root.
Comment:
A very interesting bottling this, somewhat densely smoked but with a lovely mix of fresh fruit and earthy suggestions. It's certainly a style of peating that delivers a greater sense of smoke than the character of peat itself, providing a nice change of pace from similarly aged Islay bottlings.
Find the best price to buy BenRiach 17 year old, Septendecim