A new Ardbeg whisky always gets the whisky world swinging back and forth between equal measures of excitement, cynicism, anticipation and confliction. There can be no doubt that this small distillery on the south-east coast of Islay has produced more than its fair share of world-beating drams. It is largely this fact that has solidified the Ardbeg reputation, making it one of the most loved, and hyped, of all Scottish distilleries. Old bottlings and young single casks change hands for obscene sums, while any truly limited or unusual releases are feverishly horded for future drinking or speculation.
In recent times Ardbeg has been characterised by a string of non-age-statement bottlings, often featuring some of the Glenmorangie Company's typically modern wood experimentations. Most have garnered high praise from many commentators, but there are still some that would wish to see more transparent "natural" bottlings (Ardbeg Airigh Nam Beist… ah how I miss it) finding their way from the salt sprayed warehouses of Islay. This new release makes obvious reference to the most recent Ardbegian marketing experiment which saw a few vials of new make find their way beyond our atmosphere. It is a vintage bottling this time around though, and with the inclusion of some Marsala matured stock.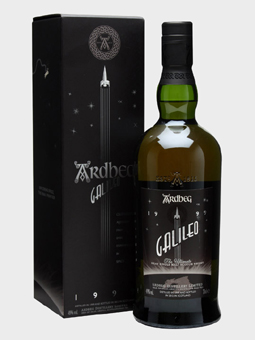 12 year old, Official Bottling 2012, 49% abv.
Nose:
Distinctly soft and fruity at the outset; ripe pineapple, peach cream and hints of melon coated in a layer of sooty coal smoke. Slowly a wave of tarry peat comes forward but is lent contrast by a sweet hint of white chocolate. Things grow more coastal after 10 or so minutes with notes of scallop shells and damp sand. Water brings about some distinct changes in this one; the smoke takes on a lovely and slightly acrid, old boiler-like quality along with a suggestion of stewed gooseberry and kumquat.
Taste:
Quite a mix of flavours on delivery but mirroring the nose rather well; soot and old fireplaces blended with sweet, soft fruit notes of pineapple cubes and mixed citrus. Into the mid-palate the oak comes forward with a little fresh leather and a distinctly dusty mix of ground coriander and mace. Threads of smoked tea add a certain bitterness towards the finish.
Feel:
Rich and Oily.
Finish:
Long but gentle, with the fruit, soft smoke and a vanilla-rich American oak sweetness all taking turns in the length.
Comment:
Well, this is quite a departure from the Corryvreckan or Supernova-esque peat monsters that have been at the core of Ardbeg's recent output. This bottling is much more delicate and intricate in its balance between the distillery's characteristically complex spirit and the mix of cask types. This may disappoint some true "peat-freaks" but for those of us who prefer a more elegant take on this great distillery's character, Galileo is a step in the right direction and a bit of a winner in it's own right.
Find the best price to buy Ardbeg 1999 Galileo