Aberlour is a name that will be familiar to most with even a passing interest in Whisky. The reliably accessible and unquestionably well made 10 year old is a staple of many supermarket shelves, and it's certainly a safe bet when beginning ones travels through the world of whisky. For those that have become more deeply imbued with the joys of this venerable spirit it may be the cask strength, sherry matured bruiser of Aberlour a'bunadh that holds a firm spot on their list of "bang for the buck" drams. That being said, those old staples will have to wait for another day!
Enter the (quite) recently launched, enchantingly labelled "That Boutique-y Whisky Company" and their range of small batch, cask strength, non-age-statement Single Malts. Somewhat amazingly this series of releases has already featured names that you rarely see offered outside the single cask realm, and often for considerable prices. Port Ellen, Caperdonich and Ardbeg distillery have all been featured and subsequently sold out at a rate you may expect. Second and third batches are being rolled out -thankfully- alongside the on-going introduction of names both familiar, like this Aberlour, and more obscure; Benrinnes or Aultmore. In short, keep a watchful eye on what is an exciting and well-priced addition to the market!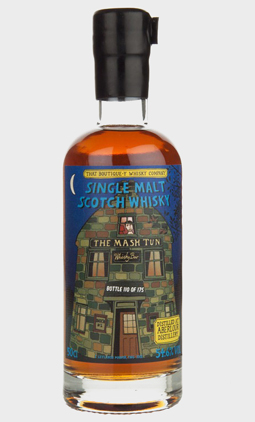 Batch #1, 54.6%abv, 175 btls.
Nose:
Very sweet, clean and fruity; crisp green apple and pear juice but backed by an oily thread of malty, almond oil nuttiness. Thick, vanillin-rich American oak soon begins to dominate with notes of butterscotch, coffee infused fudge and clove. Water draws back the sweetness somewhat, intensifying the apply fruit and adding some soft cocoa. A Modern, very attractive and instantly accessible nose but not for those seeking great complexity.
Taste:
A good dose of sweet spiciness on delivery with a blend of soft vanilla toffee and dried ginger leading into a pleasing mix of orchard fruit; apple bonbons, pear cider. That malty density suggested on the nose lends the palate a real sense of weight and oiliness, as more of that almond/pecan notes develop alongside the toasted, cloven spice.
Feel:
Richly coating and oily.
Finish:
All heady vanilla, fudgy sweetness and gingery spice now. The oak lends a certain herbal, almost mentholated edge at the death.
Comment:
If Aberlour already represents one of the most accessible, easy-going single malts on the market, then this bottling serves to prove the point even further. At a strength of 54.6% this is already eminently, almost worryingly, drinkable and with such a modern, sexy, American oak driven profile it's hard to imagine anyone failing to enjoy this. One to make the Christmas party go with a swing then, and it won't break the bank!
Find the best price to buy Aberlour - That Boutique-y Whisky Company