Mar 07
Posted on 7th March 2014 by Pierre
A sharp knock at the door from the postman still triggers that childish thrill - "Hey Mr Postman have you got a parcel for me?" All too often he hands us an oversized catalogue or some other boring promotional item destined for the recycling.
But not this morning. Oh no. Because today he gave us this...
With "Introducing the Master of Malt 60 Year Old Speyside" emblazoned on the box it was enough to set hearts racing here at Whisky Marketplace HQ.
A quick skim read of the covering letter informs me that a 70cl bottle of this will retail at the really very reasonable price of £999.95, which is an absolutely steal for a whisky this age. But even at that low price it still means that the 3cl sample enclosed would set you back a few quid. Fortunately it was me, and not a colleague, who opened the door to the postie, because 3cl is really too small a size to share...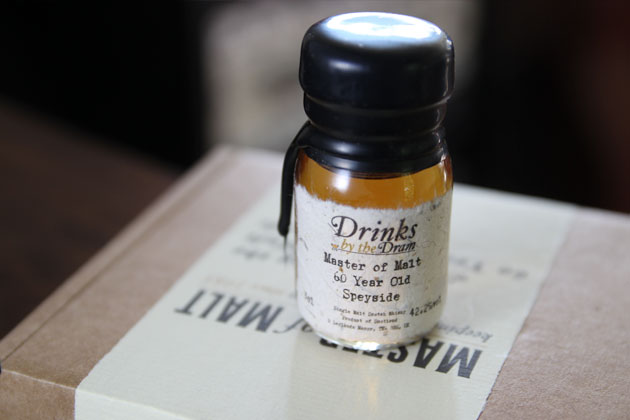 "What does it taste like?" I hear you cry. Well the sun isn't yet over the yard arm and Friday morning is not the right time to sample a delight such as this. Instead I'm going to sit and look at it for a little while. My parents hadn't even met when this flowed from the still and I'm all grown up with two kids of my own... sometimes whisky puts things in perspective. And that's even before I've had drink.
When I do get round to tasting I'll be sure to let you know the verdict. But those chaps over at Master of Malt seem to know what they're doing so I reckon it's a safe bet.
If you can't wait you can buy a bottle, or a sample, here.
Mar 07
Posted on 7th March 2014 by Pierre
It's March already and we're only just delivering our first Staff Picks of 2014. Why? Well our post-Christmas detox lasted 2 months... and if you believe that you'll believe anything! But we're back now and what a quartet we have for you this month. An Irish, a bourbon and a pair of scotches.
Staff Picks - our choices for this month
Jan 30
Posted on 30th January 2014 by Pierre
This year's release from the Glenmorangie Private Edition series is named Companta - Scots Gaelic for "friendship" - a nod to the "Auld Alliance" between France and Scotland, because this is a whisky whose maturation has been completed in French wine casks.
Wine finished whiskies are not easy to get right so it comes as no surprise that Dr Bill Lumsden - head of the Whisky Creation Team at Glenmorangie - spent a good while seeking out the perfect casks for this latest expression. For the Companta recipe whiskies matured in two types of wine casks were used, Clos de Tart from Burgundy and a sweet fortified wine from Côtes du Rhône.
He explains: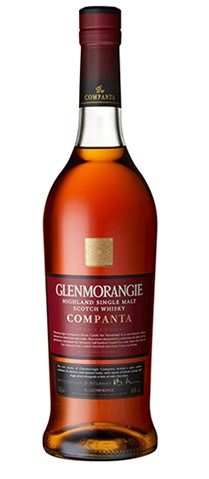 "Having spent over 20 years traveling to some of France's most renowned vineyards, I've had the opportunity to sample many rare and intriguing wines in search of the finest casks to complement the extra maturation of our whisky. As a true wine aficionado, some of my most memorable visits have been to Burgundy, where the dedication and attention to detail that goes into their craft never ceases to amaze me. The smaller vineyards of the region don't seem to worry about yields, costs, or timings. They work tirelessly, simply to produce the very best wine. In the same spirit as Glenmorangie, they stop at nothing in the pursuit of perfection."

"To complement the bold, spicy character imparted from the Grand Cru casks, I selected a parcel of Glenmorangie which had been extra maturing in casks having previously contained a lusciously sweet fortified wine from Côtes du Rhône. It took some time, but with careful fine-tuning we reached a harmonious assemblage which proved the perfect balance; neither too bold nor too tame!"
We attended the launch night last week and we were struck by Bill Lumsden's passion for wine - he's certainly worked meticulously to source the very best wine casks for this whisky.
Glenmorangie Companta marries quite an exotic mix of spicy notes - fennel seed, nutmeg and star anise - with a natural acidity from the wine tannins. It also has quite a prominent earthy, vegetal note which compliments the obvious wine flavours, and plenty of fruit with hints of greengage and fresh stone-fruit.
Glenmorangie Companta is non-chill filtered and bottled at 46% ABV and in the absence of the now discontented Glenmorangie Burgundy Finish, this offers something very interesting to the range.
Here are a few photos from the launch event...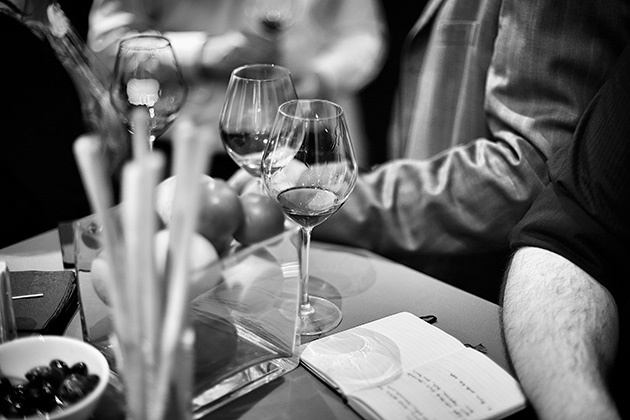 A drop of Clos de Tart prior to the tasting.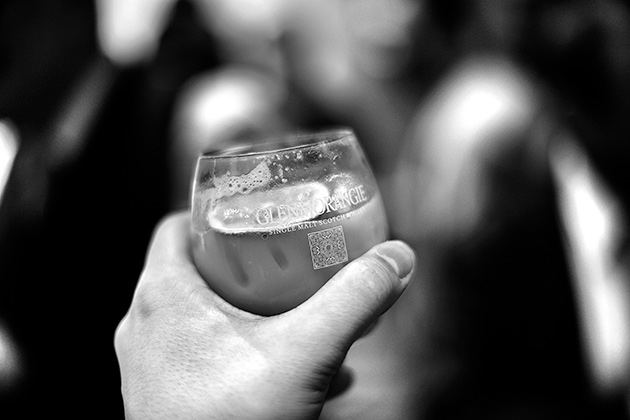 One of the lovely Companta cocktails on offer.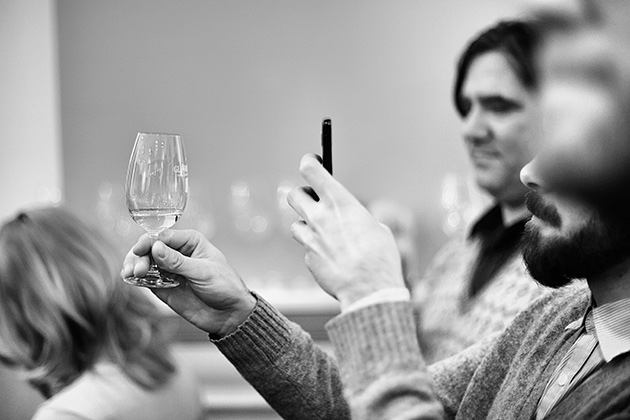 Chap with beard takes a closer look at Companta.
Dec 26
Posted on 26th December 2013 by Pierre
The festive season is upon us. Here are a few selections from our Christmas whisky cabinet - a premium blended scotch, a pair of fantastic independently bottled single malts and an Indian whisky from Goa. Enjoy the holidays!
Staff Picks - our choices for this month
Dec 17
Posted on 17th December 2013 by Tim
Today I'm taking a look at two expressions from the latest group of Diageo Special Releases, one is something of a perennial distillery for this range and the other is altogether rarer.
The 36 year old Convalmore was one of the most interesting of this year's Special Releases. Convalmore distillery was closed in the 1985 and during its lifetime almost the entirety of its stock was reserved for blending – at one time it was a key malt in the make-up of the Black & White blend. Remarkably, this is only the third official bottling of Convalmore in the modern era, following a Rare Malts bottling in 2004 and a previous Special Release edition (also from the 1977 vintage) which appeared in 2005 and was referred to recently by Dave Broom as "One of my favourite whiskies ever". High praise indeed, giving this follow-up from the same vintage a lot to live up to.
From one of the rarest of Special Releases, let's turn our attention to the most prolific of all. This year's edition of Lagavulin 12 year old is the 13th release and there's no doubt that this is one of the most consistently excellent of the range. At an RRP of £80, it's one of just two of this year's Special Releases with a price tag under three figures. The good news, however, is that despite its relative cheapness (and cheapness is only ever relative when we talk about the Special Releases) it's one of the best of this year's crop.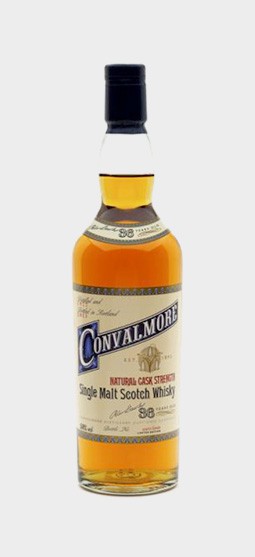 36 Year Old
Nose:
Very nice aromas of sugar-coated almonds, with sharp exotic fruit and some spicy old oak – cloves, cinnamon, faint hints of tweed – all of which are hallmarks of good old-fashioned aged Highland malt of a style that modern whiskies just don't seem to be able to reproduce. Develops a little creamy vanilla with time in the glass.
Taste:
A rather grand combination of tweedy oak, astringent, clovey spice and more subtle hints of unripe mango and kiwi fruit. These fruity notes give the mouthfeel an a slight tangy sharpness that offsets the wooliness of the very venerable wood. A drop of water is recommended as it subdues the oak and ripens the fruity notes.
Finish:
The peppery spices fade slowly, ensuring that the oak has the last word.
Comment:
Always a privilege to taste such a rarely-seen single malt. It's fascinating to consider how a whisky that was made to be blended and drunk young can turn out so well despite being put in whichever tired old casks were available.
Find the best price to buy Convalmore 1977
2013 Release
Nose:
A pleasingly rounded nose, with notes of wet sand, gravel and even some grassiness alongside the expected soot, tar and wet burnt wood, which are comparatively muted here.
Taste:
Much sweeter than expected, with strong honey flavours prominent alongside charcoal and coal tar soap. It still packs a punch, though. Lovely notes of oyster shells, sand and a chalky minerality. A honeyed, grassy sweetness that sits well with the sodden bonfire notes.
Finish:
The phenols linger with the honey. Exceptionally moreish.
Comment:
It's hard to rank degrees of excellence, but I really can't remember when I last enjoyed a Lagavulin 12 year old quite as much as this. One of the standout drams of the 2013 range. I've always preferred these cask strength 12 year olds to the standard issue 16 year old Lagavulin and this is the best one in ages.
Find the best price to buy Lagavulin 12 year old
Dec 05
Posted on 5th December 2013 by Pierre
Here at Whisky Marketplace there's nothing we like more than an educational whisky product because, let's face it, whisky appreciation is a voyage of discovery. Every whisky we taste teaches us a little more about the magic of the cask, or the still, or the mash, or the type of oak... you get the picture. Unsurprisingly this new release from Box, one of Sweden's newest distilleries and a very stylish looking player on the world whisky scene, caught our eye.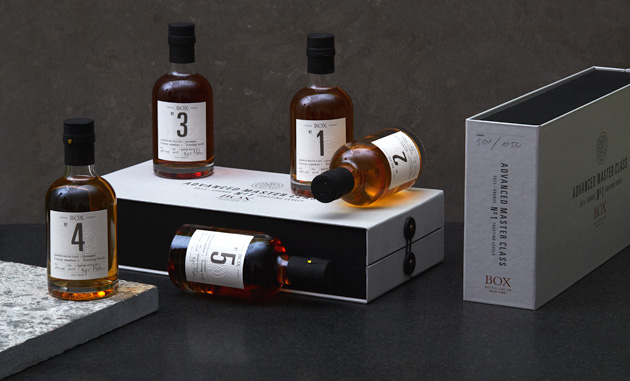 The "Box Advanced Masterclass: Toasting" is a collection of five 20 cl malt spirits matured in Swedish oak casks for 30 months. The difference between the spirits is the level of toasting of the cask each has matured in. Box Distillery Manager, Roger Melander explains, "Toasting is essential when making barrels. Whisky literature often disregards how important toasting is for the development of flavours; it can impart around 100 flavours to a whisky. Just how this process works and its significance for the whisky experience is what we shed light on in our first Master Class."
This beautifully packaged collection would make an ideal Christmas present for your favourite whisky lover, or you could treat yourself! Enjoy some fine Swedish malt spirit and learn all about an aspect of whisky making that, perhaps, isn't discussed as often as it should be.
For more information visit boxwhisky.se
Dec 03
Posted on 3rd December 2013 by Tim
Part of producer Kentucky Bourbon Distillers (KBD) range of Small Batch bourbons, Noah's Mill is bottled at 100 UK proof (57.15%) and is probably the most critically acclaimed of the company's range, with regularly huge scores from the likes of Jim Murray and Paul Pacult.
KBD is a family company that has owned and operated the Willet distillery since 1935, but has been established as the US's most important independent bottler since the 1980s. As a result, it's impossible to say exactly where Noah's Mill originates from – but while it tastes this good it's probably better not to ask too many questions.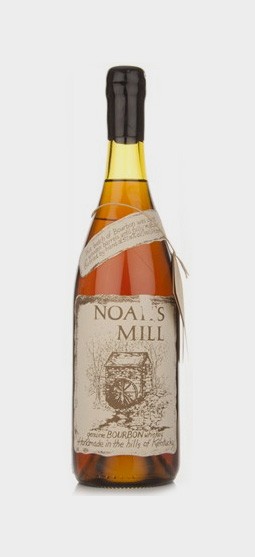 ABV: 57.15% - Size: 75cl
Nose:
A seriously complex, deep, dark, enveloping nose of wood, white pepper, mint leaf, milk chocolate, vanilla, clove, cinnamon and caraway. This profusion of spice indicates a bourbon with a relatively high rye content.
Taste:
At full strength, the spice on the palate is enormous, with the accent on the clove and caraway seeds, plus a touch of menthol / eucalyptus. Very warming at full strength and opens up beautifully with a drop of water, revealing a more chocolatey note, plus strawberry liquorice, resin and fresh wood shavings.
Finish:
A long meander through the spice rack, with sweet chocolate and vanilla cake in the background.
Comment:
A whiskey that fully deserves its lofty reputation. The price has crept up in the last few years, but the quality more than justifies the outlay - this has to be the best value bourbon in the £50 price bracket.
Find the best price to buy Noah's Mill
Dec 02
Posted on 2nd December 2013 by Tim
Originally produced for the US market in 1909, Chivas Regal 25 year old was fairly revolutionary at a time when long-aged whisky was relatively unknown, but the brand disappeared in the aftermath of the Great War and Prohibition and was never reintroduced after Repeal, as it was felt that the Great Depression was not conducive to the successful marketing of a luxury product. Relaunched a few years ago as a limited edition to critical acclaim, happily Chivas Regal 25yo has now been rolled into the ongoing range of one of the world's favourite blends. I don't normally like to talk about presentation generally, but it also looks great.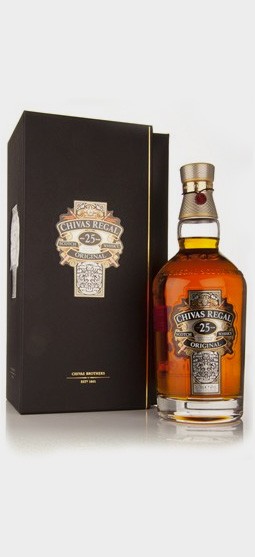 ABV: 40% - Size: 70cl
Nose:
Rich sherry presence, with strong raisin and honeycomb, toasted malt loaf, date, treacle and rather a lot of polished oak, though the fruit is strong enough to handle it.
Taste:
Silky-soft, with strong oak again, manifesting as creamy vanilla and polished, heavily-varnished old wood. The sherry is here as well – Christmas cake – along with a faint but definite hint of smoke and some autumnal dried leaves.
Finish:
Some metallic notes, lingering oak, big spices – clove, cinnamon, pepper – and a fresh herbiness towards the death.
Comment:
A classic digestif, and a brilliant winter whisky. Indulgent, and the price dictates that it's not an everyday dram, but perfect for a special occasion at this time of year.
Find the best price to buy Chivas Regal 25 Year Old
Nov 28
Posted on 28th November 2013 by Pierre
One glance at this month's staff picks and you'll see what's happening at WhiskyMarketplace HQ. The nights are drawing in, the weather is getting colder and thoughts are turning to festive whiskies. Quality, richness and luxury are what we're looking for... unsurprising then to see two superb scotch single malts, a sensational Japanese blend and premium scotch blend.
Staff Picks - our choices for this month
Nov 26
Posted on 26th November 2013 by Tim
Ben Nevis flies under a lot of people's radars, which is a shame, as the distillery is more than capable of putting out some excellent whisky – as would be expected for a distillery owned by Japanese giants Nikka, who have owned it since 1989.
Bottlers Signatory, meanwhile, eschew almost all publicity and promotion, and sadly this little sherry-matured gem has been languishing in obscurity since being bottled towards the end of last year.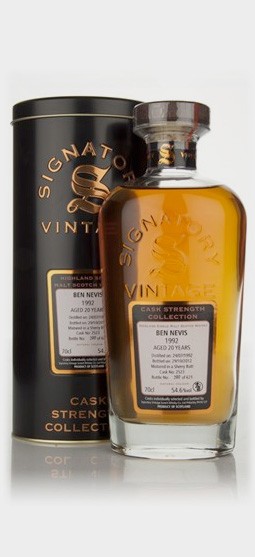 20 Year Old / Sherry Butt #2523 / Signatory
Nose:
Raisin fudge, rum'n'raisin ice cream, Fruit & Nut chocolate, then a treacly note, plus prune and plum, and hints of blackcurrant & liquorice boiled sweets. Water brings out hints of dates and cocoa powder.
Taste:
Very pruney, sweeter than expected, with Christmas pudding, plum duff, chocolate fudge and a faint savoury hint of aged balsamic vinegar. Quite big and drying at full strength, but opens up beautifully with a drop of water.
Finish:
Chocolatey again, with a mince pie pickle sweetness and lingering spice.
Comment:
Perfect for Christmas, definitely one for the sweet-toothed out there. A lovely sherry cask dram.
Find the best price to buy Ben Nevis 1992