May 10
Posted on 10th May 2013 by Stuart
For the better part of a decade now Glenmorangie has been constantly associated with a willingness to experiment. The company's Distilling & Whisky Creation Director - Dr. Bill Lumsden - and his team have long advocated the cask as the dominant factor in the final character of a matured malt, augmenting their ever-popular 10 year old with wine-cask finished bottlings such as Quinta Ruban (extra-matured in port casks) and an annual "Private Edition" release.
Last year saw a break from what had been a thoroughly modern series, and instead looked to what was an old style of Glenmorangie which, like the vast majority of distilleries, would have included more than a touch of smoke in years gone by. In contrast, 2013's Ealanta reads as quite the opposite; matured exclusively in virgin oak casks for 19 years, this could well be the very model of a modern vanilla drenched single malt.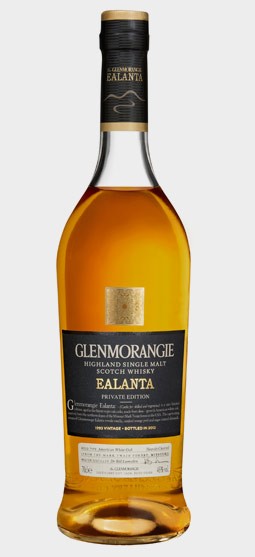 1993 Private Edition
Nose:
Certainly an extremely expressive, open start with a huge swath of syrupy sweet apricot and the almost unavoidable, notably heady vanilla. A little pine oil and peppermint push through the early richness, alongside some treakle toffe, cocoa and festive-spiced orange marmalade. Develops on baked apples and a range of fragrant honey's over time. Very attractive and certainly with all the hallmarks of fresh American oak, if not terribly wide.
Taste:
Hot, peppery wood-spice on delivery; nutmeg, cinnamon and cayenne with an edge of sappy, sour oak and, of course, more vanilla. The resinous character underpins throughout but does allow notes of poached pear, vanilla enriched stock syrup and dried apricots to add some balance. Past the mid-palate things die down a little more quickly than expected with some toasted wood, pencil shavings and flickers of spice leading into the finish.
Feel:
A lovely balance; both peppery and smoothly coating.
Finish:
A touch flat but still with some persistence; vanilla, honey-fudge and those woody, resinous suggestions of pine, freshly cut wood and toasted oak.
Comment:
An almost unavoidably bourbon-like take on Glenmorangie but, somewhat miraculously, the wood fails to completely dominate or give the impression that this release is simply "over oaked" . It's an ultra-modern style of scotch and one that will appeal to a wide audience with its exuberance and accessibility, though for those of us who would prefer to see more spirit character in our bottlings, one to experience rather than indulge in.
Find the best price to Glenmorangie Ealanta
Apr 24
Posted on 24th April 2013 by Jean-Luc
Each month here at Whisky Marketplace we put together a collection of staff recommendations to tantalise your taste buds.
This month we bring you two exciting new releases; we sniff out the last few remaining bottles of a rather special release by Highland Park before they disappear for good; and in the video podcast embedded above Pierre revisits the classic blended Scotch Chivas Regal 18 Year Old.
Staff Picks - our choices for this month
Apr 12
Posted on 12th April 2013 by Jean-Luc
A round-up of the hottest new whiskies stocked at Master of Malt this month including a very nice 25 year old release from Cutty Sark, which has packaging adorned with scenes from the Rabbie Burns poem - Tam o' Shanter - and comes with a book of more than 50 illustrations by the late Alexander Goudie.
Also a blended Scotch released to mark World Whisky Day 2013 which is coming up on 18th May and a tranche of new indie bottlings from Old Malt Cask, Connoisseurs Choice and Berry Brothers & Rudd.
Mar 30
Posted on 30th March 2013 by Pierre
The storm clouds are gathering in the north and the winds carry the battle cry of the norsemen, it can mean only one thing... Highland Park have a new release.
Elsewhere in this months staff picks things are a little more relaxed with an old fashioned blended scotch, a beautiful Japanese malt and a superb scottish grain whisky.
And so onto the rest of the picks...
Staff Picks - our choices for this month
Mar 06
Posted on 6th March 2013 by Jean-Luc
Waiting for a flight to board can be seriously tedious business so browsing the duty free shop for fine spirits is often a welcomed distraction. Its made all the more interesting (for us whisky geeks) when you come across something that's exclusive to travel retail. At the very least, if these off piste whiskies don't tickle your fancy, you'll be impressed by the manliness of the 1 litre bottles.

Highland Park have announced a new range of whiskies entitled 'The Warrior Series' which draw on the Orkney distillery's strong Norse heritage. They've named each of the bottlings after infamous Viking Earls who once presided over the remote islands. The first three in the series being Svein, Einar and the notorious Harald retailing at €40, €53 and €75 respectively.
Although the islands are part of Scotland this has only been the case since 1468. Centuries of Viking rule have left a deep and lasting impression on the people and culture of the Orkney Islands. Share a whisky with an Orcadian and you won't hear a "Slangevar" (the Scottish for "cheers"), instead the distinctly Scandinavian "Skol!" in preferred.
Gerry Tosh, Highland Park's own 21st Century viking-esque figure*, is pleased with the creations:
The Warrior Series is a natural progression for Highland Park, both in brand terms and in global travel retail. By continuing the celebration of our rich and distinctive Norse heritage we are able to tell stories which bring the brand and its products to life. To further this evolution, the whisky maker has crafted six individual whiskies which collectively offer drinkers a new style of taste journey, still classically Highland Park from start to finish, but giving them a different and holistic experience.
Travel retail is a fast growing area for whisky producers who are increasingly using the market to test out new expressions prior to general release - Johnnie Walker Double Black and Highland Park 21 Year Old to name just two recent examples - so you'll often catch a glimpse of things to come.
We'll look forward to the next three in the series where the Viking Earls "go premium" on a sliding scale. Available at all good local airports.
*actually Gerry is quite mild mannered and a jolly nice chap but we thought the piece worked better if he had a bit more of the Norse warrior about him. Gerry take note.
Feb 27
Posted on 27th February 2013 by Stuart
It's time again for us here at Whisky Marketplace to offer a few of our recent favourites for your consideration.  It's another eclectic group this month!
Aside from that we have one of Bruichladdich's many "aced" (extra matured etc) releases, a new and well anticipated release from Springbank's recently introduced Rundlets & Kilderkins line and a recently issued bottling from our old friend Clynelish in the form of a 15 year old distilled in 1997. Enjoy!
Staff Picks - our choices for this month
Feb 08
Posted on 8th February 2013 by Jean-Luc
With literally thousands of new whiskies released each year it's often difficult to keep track of new bottlings as they become available. Add to this the fact that many limited release whiskies are snapped up by eager collectors across the world and it's probably fair to say that some great whiskies are passing you by undetected.
Luckily for you we scour the internet monitoring the latest releases from all the top whisky retailers, which makes finding new, exciting whiskies that little bit easier. For the first in a new series of roundups, which we'll entitle "What's hot", we take a look at the best new releases on The Whisky Exchange and recommend our best buys.
Feb 02
Posted on 2nd February 2013 by Jean-Luc
Hello readers, you may have noticed that things have been a little quieter than normal over here, that's because we're in the process of moving our blog within the Whisky Marketplace site!
For various technical reasons (which we're not going to bore you with) we needed to relocate the blog; and so it now lives in the /journal folder. If you are one of the fab people who link to us from your own blog it would be really great if you could update the url.
Thanks for your patience and rest assured we'll be firing on all cylinders again very soon.
Jan 30
Posted on 30th January 2013 by Stuart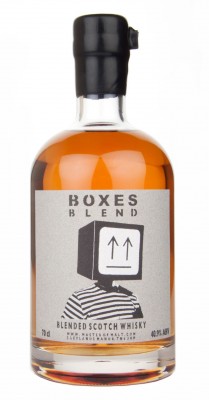 The ever-innovative folks at Master of Malt have announced details of a new Blended Whisky, conceived in conjunction with Athlete bassist and long time whisky lover Carey Willets, in celebration of his side-project 'Boxes'.
Mr Willets' introduction to Master of Malt and involvment in the whisky world may be relatively recent, but whisky itself has been a long running passion for the bassist. "Whisky's always been a big part of my musical history—they both enhance each other. Enjoying whisky and music together is a life-affirming experience."
The blend is said to be "smooth and sweet with a bit of smoke on the end" and was always intended to appeal to a wide audience with a varied profile; "When we first began blending we ended up with a light and almost summery whisky, and it was nice, but not quite right. The Boxes Blend needed that hint of smoke, so we kept working until we got it right. My hope is that Boxes Blend has something for everyone."
Both Boxes' 2012 EP 'Silent Alarm' and Master of Malt's Boxes Blended Whisky are available now, and both look to be well worth checking out.
Jan 25
Posted on 25th January 2013 by Stuart
Whilst sipping a lovely Bladnoch over the festive break I was struck by just how much depth was cloaked in the spirit's initially understated personality. This drew me to the much revisited topic of Whisky awards, and to considering which releases win them and ultimately, why? It seems quite difficult to find a Scotch that hasn't attained gold before at least one set of "learned judges", but more importantly, what of those awards that still hold merit amongst the sea of the somewhat dubious? The Malt Manic Awards, Cask Strength's Best in Glass or Whisky Magazine's annual awards are a few that maintain a level of trust, but just what is it that makes a winning malt?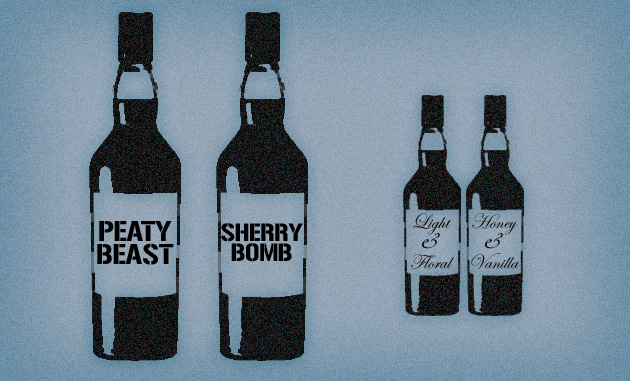 It seems to me that one theme runs deep as you look back over the bottles that have found themselves graced with top honours. Big whisky, powerful either by way of sherry, peat, active oak or a distinctly forceful character tends to steal the show. Indeed The Malt Maniacs are well known for their penchant for old, heavily sherried releases and last year's awards did nothing to shake that view as another (admittedly lovely) Glendronach stood out above the rest. In the Best in Glass awards it was a forceful dram from Balcones and in The Whisky Magazine's round up it was the similarly bold Yamazaki 25 year old. "Delicate whiskies find themselves lost in the crowd, outshone by the whisky equivalent of attention-hungry exhibitionists."
Highlighting such a phenomenon is far from a criticism of the winners however, indeed they are all (in this case) of undoubtable quality and worthy of a place upon the pedestal in their own right. It is only the shadow this casts over the quieter, "whispering whiskies" – to quote Dave Broom – that concerns me, as for every peat-reeking Ardbeg or lush, intensely rich Glenfarclas whiskies there is graceful, comparatively fragile beauty standing to be overlooked.
It's hardly surprising of course when you consider the mechanics of judging for such competitions; tasting large numbers of samples entirely, or partially, blind can cause the nuances of the delicate to find themselves lost in the crowd and outshone by the whisky equivalent of attention-hungry exhibitionists. Time is also an oft-overlooked factor, after all any whisky that must breathe well to unfold its richness and make a strong impact may be at a disadvantage as the number of samples to taste bears down upon a judge's time, energy and palate. This strikes me not so much as a shame as an inevitability and one that, rather than consigning awards to a proverbial scrap-heap, is simply something to be aware of as you search feverishly for the latest medal-winning malt.
In truth, it's not unusual to see a beautiful old whisky with layers of delicate complexity score in the 90s when tasted alone or in a small vertical, while failing to find favour with the majority of a panel during award scoring. If you have a glass of Bruichladdich XVII in front of you and if, as you drew in the quiet subtly of the Islay coast, delicate barley and whispers of ripe melon, you were wondering why there doesn't seem to be a golden crest upon the label, the answer is simple. The profile you are enjoying is both it's strength and weakness; it needs and rewards time, thought and patient appreciation the like of which you, dear reader, seem ideally poised to offer, while the rigours of the award process can prove less so.