Nov 16
Posted on 16th November 2015 by Sammy-Jo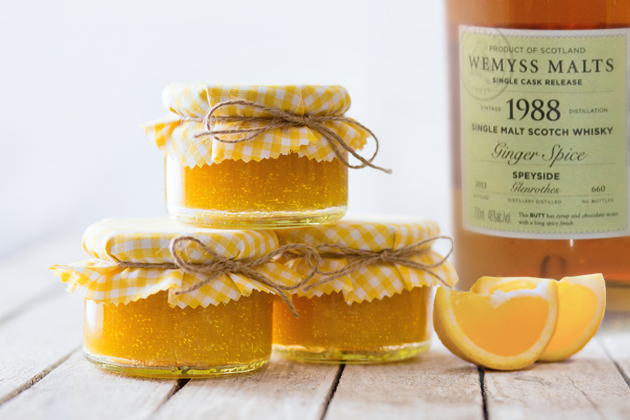 This whisky inspired marmalade will make the perfect gift this Christmas (if you can bear to part with it). It's easy to make and you could even get your kids involved. Just make one large batch and share it out between jars. The jars could be decorated with a homemade label, festive ribbon, cinnamon stick, dried orange and berries etc. If your kids aren't interested in cooking maybe you could get them involved an art project, decorating the labels and lids. This would make a great, cost efficient homemade gift for family, friends, neighbours and teachers this Christmas!
Ingredients:
1 small grapefruit
2 lemons
1 sweet or Seville orange
1 cinnamon stick
½ cup of fresh cranberries
1.75/3 pints water
1.4kg/3lb 1oz granulated sugar
75ml/5 tbsp. whisky *
Edible gold glitter
Additional Items:
Muslin bag or piece of muslin
Short piece of string
Jam jars
Labels
Decorations: glue, scissors, dried fruit, ribbon etc.
* We would recommend a rounded, sweet Speyside Scotch like Glenrothes whisky and we loved the sound of Ginger Spice 1988 by Wemyss Malts although it could be a little pricey for cooking!
Directions:
Wash and juice the fruit, then pour into a large lidded pan and add the water.
Using a small sharp knife, scrape out the fruits pips and inner membranes. Put the membranes in a food processor and chop finely. Then, move the pips and chopped membranes into a piece of muslin and tie with string – add this to the pan.
Tear the citrus fruit peel (thick or thin) and add to the pan.
Place the fresh cranberries in a microwaveable bowl and warm in the microwave until soft. Add both the cranberries and the cinnamon stick to the pan and set aside to soak for a few hours, or overnight if possible.
When you return, put the pan on a med-high heat and ensure the lid is covering the pan. Once the pan has begun to boil, reduce the heat and gently simmer for two hours until the peel is very tender.
In the meantime, preheat the oven to 140°C/120 fan oven. Pour the sugar into a baking dish and place in the oven until warm. Carefully remove the muslin bag from the pan, squeeze all liquid from the bag through a sieve to add flavor to the pan. Discard the muslin bag.
Spoon out the cinnamon stick and cranberries, then squeeze the softened cranberries into the pan and add small shredded pieces of cranberry skin.
Simmer for a further 5 minutes, then add the warmed sugar to the pan and mix in until dissolved. Bring the pan to boil. After five minutes, scoop out a large spoonful of marmalade, allow the mixture to cool a little and slowly pour back into the pan. This will test the setting point of the mixture. If the drops run together to form a hanging flake, it is at setting point. This process can take up to 30 minutes so keep testing.
Once at setting point, take the pan off the heat and leave to cool for 5-10 minutes. A skin should form on the surface so remove any scum present after 10minutes.
Add the whisky and a sprinkle of edible glitter to the pan and gently stir the marmalade to ensure even distribution of the alcohol and fruit peel.
Then pour the mixture into the clean decorated jars and seal, leaving upright and undisturbed to set.
Not only will this taste great on toast or crumpets, but you could also use this marmalade in lots of recipes such as marmalade bread and butter pudding, goat's cheese and marmalade stuffed chicken breast, grilled marmalade marinated steak etc.
You could even put together a small booklet or leaflet with these recipe ideas to accompany your Merry Malt Marmalade Christmas gift!
Nov 13
Posted on 13th November 2015 by Pierre
This month's staff picks collection is inspired by a conversation we were having here at Whisky Marketplace HQ about how we fell in love with whisky and, more importantly, which whiskies made that happen. Our 'first loves' if you will. Not the rarest or most expensive whiskies we've ever tasted but the whiskies which really started our journey. Expressions that keep us coming back for more.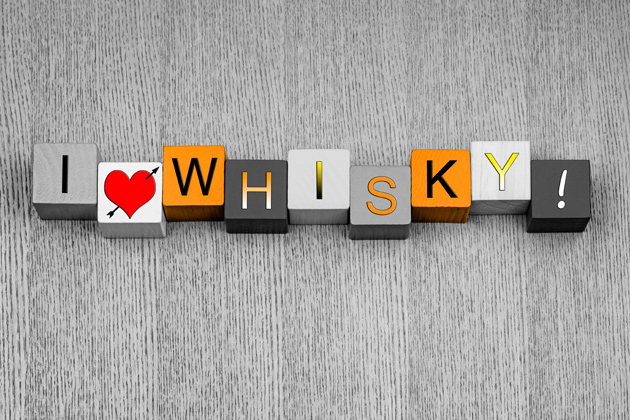 I'm sure most of you can relate to the experience, you may have tried whisky on a number of occasions before you really caught the bug. And then you tried a whisky, or went to a tasting, and suddenly you were hooked.
So we thought we'd revisit some old flames for our November picks with classics from Lagavulin distillery on the island of Islay; Oban on the west coast of Scotland; Islay's rugged Ardbeg distillery; and a Glenfarclas whisky from the family run Speyside distillery.
We hope you enjoy the selection. What were your first whisky loves?
Staff Picks - our choices for this month
Oct 30
Posted on 30th October 2015 by Sammy-Jo
A stunning modern blended whisky by Compass Box, which challenges our perception of what defines luxury.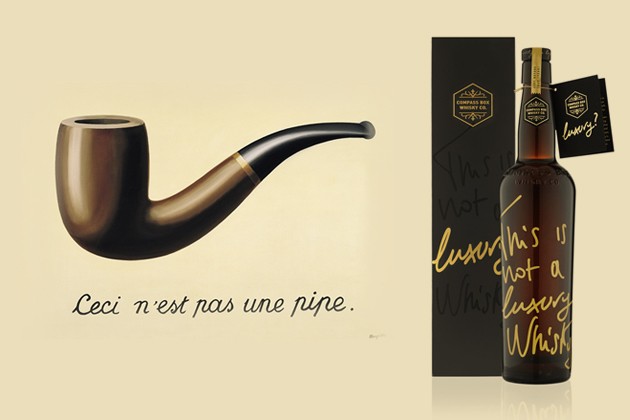 'This is not a luxury whisky' is a brand new 2015 limited edition release, from award winning Compass Box. The blended Scotch whisky was inspired by René Magritte's Surrealist 1929 painting 'The Treachery of images', depicting a smoker's pipe accompanied by the caption 'Ceci n'est pas une pipe', translation: 'This is not a pipe'. Compass Box is widely regarded as a pioneer in the whisky industry, constantly pushing the boundaries of what Scotch whisky can be, and their new concoction is nothing short of a masterpiece.
Their most recent venture has seen them not only make a fabulous Blended Scotch, but also express a statement with their inspired branding. Limited edition 'This is not a luxury whisky', forces us to question what defines our perception of a 'luxury' whisky. Despite our better judgement many of us still tend to judge a book by its cover, and this is often the case when it comes to beverages. Too often we are deceived by self-praise and an aesthetically pleasing design. Although we ultimately want to invest in a product which demonstrates quality in all aspects, it is fundamentally the quality of the whisky itself which should determine whether or not it is classed as a luxury. A quality product should engage all five of our senses to create the ultimate experience: sight, sound, smell, taste and touch. Compass Box are encouraging people to decide for themselves what they perceive as a luxury whisky; reminding people they have freedom of choice. As taste is subjective, a luxury whisky cannot be so simply defined; with 2000-5000 taste buds located on the tongue alone, no two individuals are the same. This is, in our opinion very clever and simplistic branding which differentiates Compass Box from other whisky makers.
Compass Box have expressed that this whisky is to be drunk with the purpose of 'celebrating life's little victories' and should be consumed, rather than left on a lonely shelf to collect dust, but 'above all else, it is to be shared and enjoyed'.
Boutique whisky makers, Compass Box Whisky are one the finest exponents of the art of whisky blending. Having outsourced four quality whiskies and adopting techniques borrowed and learned from the production of other drinks, John Glaser and the team at Compass Box have created 'This is not a luxury whisky' with a delectable blend of Malt and Grain whiskies, aged between 19-40 years.
This Scotch whisky is blended with 79% Glen Ord 19 year old Malt whisky from first fill ex-sherry butts, contributing the subtle essence of sultanas, sherry and floral sweetness; making it perfect for sharing (if you can) at Christmas. 10.1% Strathclyde 40 year old Grain whisky from refill American oak hogsheads, flavouring the blended whisky with deep richness, demerara and cocoa nibs, 6.9% Girvan 40 year old Grain whisky from refill American oak hogsheads with buttery, coconut, vanilla character, and finally 4.0% Caol Ila 30 year old Malt whisky from refill American oak hogsheads bringing hints of herbal, elegant, supple smoke. The result of blending these carefully selected whiskies is a complex, rich, lightly smoky and opulent limited edition 70cl, 53.1% ABV Blended Scotch whisky.
If this sounds like it would satisfy your palette and you are interested in purchasing a bottle, we have sourced the most reasonable sites to buy This is not a luxury whisky. However, you'll have to move fast to ensure you get a taste as only 4,992 bottles have been released. You don't want to miss out!
Oct 27
Posted on 27th October 2015 by Sammy-Jo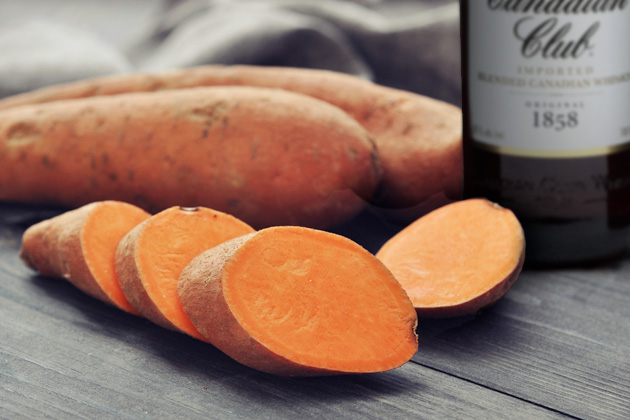 Simple and quick to make, these sweet potato fries will make the perfect addition to any meal!
Ingredients:
2 large sweet potatoes
¾ cup Canadian Club whisky
¾ cup maple sugar
3 tablespoon olive oil
½ teaspoon pumpkin pie spice
Salt and ground black pepper
Directions:
Scrub sweet potatoes until clean and then slice into 1/4 rounds. Use mini cookie cutters to cut stars and pumpkins into the center of each sweet potato slice. Or, use a small knife and carve a Halloween icon into the sweet potato slices (you could ask your children for some ideas on this to involve them).
Place the sweet potatoes in a bowl and microwave for 3 minutes to soften.
Remove the bowl from the microwave and allow to cool for 2 minutes. Then pour the Canadian Club whisky over the top. Cover the bowl and leave to soak for 15 minutes.
Remove the sweet potatoes from bowl and place on a parchment-lined baking sheet. Drizzle with olive oil, sprinkle with pumpkin pie spice and seasoning. Bake in an oven preheated to 200°C. Heat the remaining whisky from the bowl and maple sugar in a pan on a low heat for a couple of minutes. Remove sweet potatoes after 10 minutes, and pour the whisky glaze over them, shuffle the fries around to ensure they are all coated with glaze and return to the oven for a further 8-12 minutes until tender.
If you fancy putting your own twist on this, try swapping the pumpkin spice flavoring for something else such as thyme, or curry spice. Or, if you're not a fan of sweet potatoes, you could use the same method for potato wedges, butternut squash etc. We hope you enjoy this recipe from Whisky Marketplace!
Oct 23
Posted on 23rd October 2015 by Jean-Luc
Every year since 2001, Diageo, owners and custodians of some of Scotland's most treasured whisky distilleries, have released a limited selection of single cask whiskies. Earlier this week we were lucky enough to attend the launch of 2015's "Special Releases" and, having sampled the full range of these sublime liquids, our recommendations for this month almost pick themselves.
The whiskies are always special, always rare, and always selected with the utmost care from the best stocks available to Diageo. Prices range from £80 to £2,400 so there really is something to suit most people's budget.
Although the headline names in the selection are without doubt Brora and Port Ellen, two much-loved and irreplaceable 'lost distilleries', we were very impressed by the supporting cast in the range.
Staff Picks - our choices for this month
Sep 30
Posted on 30th September 2015 by Jean-Luc
It is a common misconception that blended whiskies are inferior to single malts and I was reminded of this recently when I overheard a conversation in the pub. "Single malts are far better than the blended whiskies" boomed a voice at the bar "go for the Macallan 10".
It goes to show that a little information can be a dangerous thing, I have nothing against Macallan's entry level malts, but the pair had overlooked some really nice blends behind the bar including Ballantine's 17 Year Old and a very tempting Black Bull by Duncan Taylor.
There are of course some instances – especially with budget blended whiskies - where they don't stand up to single malts but cheap whisky is cheap whisky regardless of it's classification.
The best whiskies in the world probably are single malts, however, great things can be achieved when producing a blended whisky which simply can't be matched by a single malt.
Combining carefully selected, well aged, grain whisky with one or more single malts can bring out wonderful characteristics in the spirit. It is a real art form and I take my hat off to the master blenders – by the way if you ever fancy having a go at creating your own blended whisky at home I highly recommend this Home Blending Kit. It's not as easy as you might think.
For September's staff picks we've chosen four premium blended whiskies which demonstrate that great blends are right up there with the best single malts.
Staff Picks - our choices for this month
Sep 08
Posted on 8th September 2015 by Pierre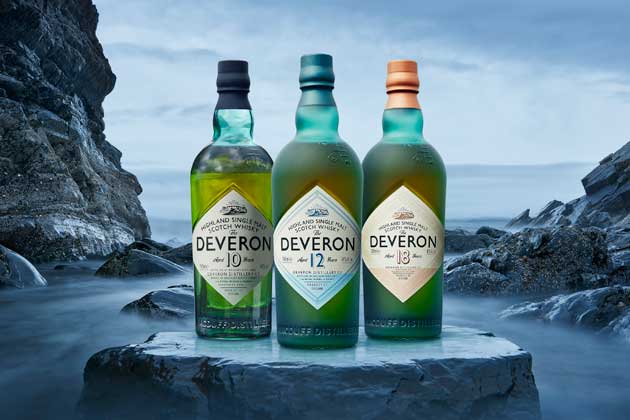 Built in 1962, the Macduff distillery is something of a whippersnapper in scotch whisky terms. Given the Scotch industry's tendency to trade on its heritage that could be considered a hindrance. Not benefiting from the excitement and goodwill afforded to new distilleries but lacking the history of the older names, a distillery like Macduff has to rely on the quality of its output to impress people. It has released whisky under the name Macduff and Glen Deveron. Now, with its latest releases, the whisky will be known as The Deveron.
Current owners, Dewar and Sons - part of the Bacardi group - have recently been releasing a range of expressions from five distilleries under the name The Last Great Malts. The distilleries are Craigellachie, Aberfeldy, Aultmore, Royal Brackla and of course Macduff. If the quality of previous releases is anything to go by, these The Deveron expressions will be worth a close look.
The range comprises three expressions The Deveron 10 year old, 12 year old and 18 year old.
Aug 29
Posted on 29th August 2015 by Jean-Luc
Okay! A short but sweet post coming up, this one is packed with exotic goodness as we explore the rums of South and Central America.
For August we thought we'd steer away from whisk(e)y for our staff picks so here is something a bit different – a lovely selection of rums (or maybe rons or perhaps even rhums?). Anyway these are four absolute crackers.
Staff Picks - our choices for this month
Aug 06
Posted on 6th August 2015 by Pierre
We're going to share our take on a classic whiskey cocktail, perfect at any time of the year, especially refreshing during the summer months. We've been incredibly self sacrificing while writing this piece, trying various combinations of ingredients and methods to bring you the definitive recipe. Ladies and gentlemen, we present the, thoroughly well researched, Whisky Marketplace Old Fashioned...
As any chef will tell you, it's all about the ingredients, and that's a maxim mixologists will no doubt echo. Some of you may baulk at the idea of putting expensive or high quality whiskey into your cocktails but before we get too protective let's examine the idea. In our view there are broadly two types of cocktail, long drinks with plenty of non-alcoholic mixer and shorter concoctions that are chiefly made up of pure spirit plus a few additives. We're going to nail our colours to the mast here, the short cocktails are the ones we really like - hey, we're whiskey drinkers, right? So if the cocktail is primarily made up of the whisky with a few additional flavourings, you're going to want to put decent components into it. Otherwise, what's the point?
And that doesn't stop with the whiskey. In fact it starts with the ice. We don't put any old ice in our cocktails. Oh no! We want the purest ice possible because for this cocktail, the ice is a central ingredient. If you're buying your ice ready made, go for a spring water brand. In UK stores the Blue Keld brand is widely available (for example at Ocado) - we've tested it against non spring water versions and it makes an astonishing difference providing a clean, pure base that allows the other flavours to shine. If you're making the cubes yourself consider freezing a good quality spring water - the same sort of water you'd be happy to add to your whisky, which make sense doesn't it?
Pay similar attention to your oranges, another key ingredient. Cheap bags of economy oranges will have disappointing skins that tear and break when you twist them and don't yield the explosion of zesty oils you need for this cocktail. Buy good quality oranges with firm, supple skins.
So on to the alcoholic ingredients. The classic version of the cocktail is made with rye whiskey but it has also become very popular with a bourbon base so we've picked one of each. We also like to use two types of bitters in our recipe.
Ingredients:
See July's Staff Picks for the best prices on Rittenhouse Rye and Ridgemont Reserve '1792
Rittenhouse Rye or Ridgemont Reserve '1792' Bourbon
The Bitter Truth: Orange Bitters
The Bitter Truth: Jerry Thomas' Own Decanter Bitters
Orange peel
Sugar syrup
Ice - we recommend Blue Keld Spring Water Ice
The method:
If you've ever cooked a risotto you'll know that opinions vary on whether to follow the old fashioned method of adding a little stock at a time while continuously stirring is essential or simply to add all the ingredients at once. For us the risotto tastes better following the traditional method and quite frankly the same is true for the Old Fashioned, do it the old fashioned way, add a little at a time and work the mixture. You can taste the love in the end product!
Add a couple of teaspoons of sugar syrup to your glass.
Add a dash of the Orange Bitters and a dash of the Own Decanter Bitters
Add a dash of whiskey
Work the mixture with a bar spoon
Add a single ice cube
Continue to work and stir the mixture
Add another ice cube with around a third of the remaining whiskey
Continue to work and stir the mixture
Repeat steps 7 & 8 until all the whiskey is added
Cut a strip of orange peel.
Twist and pull the peel over the glass to release the zesty oils into the mix.
Wipe the peel around the rim of the glass to leave traces of the oil
Peel another strip and trim to a nice neat strip with a knife.
Twist and place the peel strip upright in between the ice cubes
Serve and enjoy.
Jul 31
Posted on 31st July 2015 by Pierre
Notice anything unusual about these staff picks? That's right, there's only two whiskeys. The remaining two items are bottles of bitters. Confused? If you read this article with our take on the classic Old Fashioned whiskey cocktail you won't be.
Like most serious whisky commentators we've always told you not to put ice in your whiskey. Cocktails are of course an exception to that. But as any of you who have ever tried it will know, ice does strange things to whisky. As it cools certain flavours are suppressed and others seem to come to the fore. Not all whiskeys remain pleasant and some are distinctly uncooperative in cocktails.
Our bourbon and rye choices here are not only fantastic sipping whiskeys, straight up with no ice, they perform exceptionally well in our cocktail and would no doubt suit other recipes. As for the bitters, if you're experience to date consists solely of the famous and widely available Angostura Bitters then you have a world of flavour experience about to open up to you...
How to make the perfect Old Fashioned video podcast.
Staff Picks - our choices for this month