May 05
Posted on 5th May 2015 by Pierre
Grain whisky was seen for many years as only being fit for bulking out blended whisky and the notion of quality grain-only expressions would have been laughed at. As any experienced blender will tell you, they have long known that good quality grain whisky is an essential component which binds together the malts in a premium blend. More recently grain has been bottled and sold in both single grain expressions and blended grain-only expressions.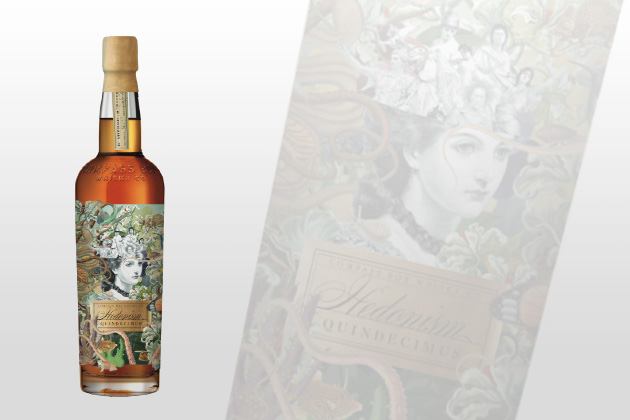 It must be noted that this has been done to varying levels of success - the premium grain releases can be over priced and disappointing, particularly when compared with malt whiskies at a similar price. Done well they are exceptional, full of complex flavours and grain sweetness.
Compass Box Whisky's Hedonism was one of the whiskies which changed perceptions of grain whisky when it was first released fifteen years ago. As with many things the company does it was ahead of its time. To celebrate the anniversary of that release they have issued a new limited edition release called Hedonism Quindecimus.
Hedonism Quindecimus is firmly in the latter category of rich, well executed grain whiskies and is available now for £128 from Master of Malt and The Whisky Exchange
Apr 20
Posted on 20th April 2015 by Pierre
We haven't posted any staff picks for a few months - ahem, five to be exact. We have no excuse. So this is something of a new start and for that reason we have chosen to look at some new products. We haven't tried them so they're here because they're new and because they caught our eye.
Staff Picks - our choices for this month
Dec 02
Posted on 2nd December 2014 by Pierre
[Editor's note] First publishes in 2012, this article still gets a huge amount of traffic but we noticed that some of the recommendations were out of dates so we've updated the list for 2014.
Buying a Christmas present for the whisky lover in your life? Youve perused their whisky collection and read Stu's excellent Christmas Whisky Gifts: Buying Guide. But you want to buy them something other than, or perhaps in addition to, a bottle of whisky.
Where to start? Here are some suggestions...
Nov 28
Posted on 28th November 2014 by Pierre
A quartet of fabulous Scotches this month with two old favourites, a superb indie and a new release from old distillery that doesn't usually bottle its own whisky. For a detailed look at the Bunnahabhain watch the video tasting notes here
Staff Picks - our choices for this month
Sep 29
Posted on 29th September 2014 by Pierre
This month we pick four blended whiskies from Scotland. None of these are household names but all are worthy of a place in your cabinet.
Staff Picks - our choices for this month
Jul 18
Posted on 18th July 2014 by Pierre
We are having some pretty extreme weather here in the UK. Last night we had the fiercest thunder storms I can remember. This morning there was a hail storm and now it's brilliantly sunny, about 84 degrees and very humid. Why am I giving you a weather report? Put simply this hot, humid climate makes me think of bourbon. So, without further ado, let me introduce four bourbons every whiskey drinker must try.
Staff Picks - our choices for this month
Jun 17
Posted on 17th June 2014 by Jean-Luc
Now then, we realise that this is a slightly tenuous link but every man and his wife are jumping on the World Cup band wagon so why not join in the fun. The big news ahead of the tournament is that Scotland and Ireland – the great celtic whisky producing nations – both failed to qualify for the finals in Brazil, so we sent our talent scouts a little further afield to pick four exotic Whisky World Cup choices for your tastebuds to tackle this summer.
Staff Picks - our choices for this month
May 19
Posted on 19th May 2014 by Pierre
For this month's staff picks we've gone for a loose theme of "great bottles from less well known Scottish distilleries". Although the four distilleries in question aren't obscure if you're a Scotch fan, they certainly aren't household names. What they have in common is that they all produce wonderful whisky.
Staff Picks - our choices for this month
Apr 04
Posted on 4th April 2014 by Pierre
The revival of Glenglassaugh continues under new owners the Benriach Distillery Company who have announced the release of a number of small batch, single cask whiskies.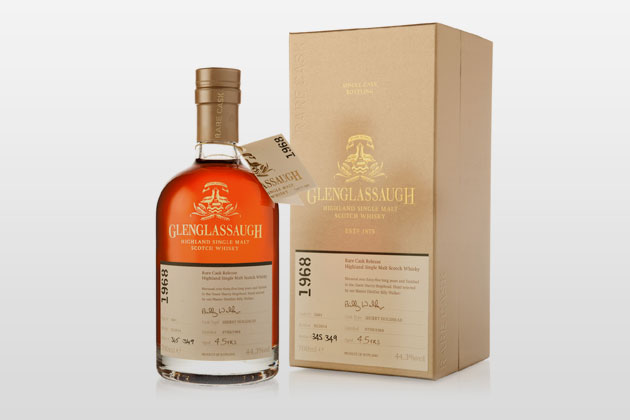 The distillery was silent between 1986 - 2009 and these releases are of whisky produced pre-1986. In fact some of them are from quite a while before 1986, the oldest being a 45 year old whisky from 1968 and the youngest a mere whipper-snapper aged just 28!
We don't have any details regarding price at the time of publishing, however these releases are sure to cause a stir. Sales director Alistair Walker comments:
We took over Glenglassaugh last year and were thrilled to discover a treasure trove of old and rare spirits slumbering in the warehouses. Revived from the dark, selected by Billy Walker for their excellence and personality and bottled last month, this is an extraordinary collection of rare casks which will be warmly welcomed by connoisseurs worldwide. Taken together, they are stunning examples of Glenglassaugh at its finest.
The range is elegantly packaged in simple bottles with an attractive golden box. Full details of the releases as follows:
1968 cask # 1601 / 45 years old / Finished a Sherry Hogshead / 44.3% vol
1972 cask # 2114 / 41 years old / Matured a Sherry Butt / 50.6% vol
1973 cask # 6801 / 40 years old / Finished a Manzanilla Sherry Puncheon / 52.1% vol
1975 cask # 7301 / 38 years old / Finished a Oloroso Sherry Hogshead / 40.7% vol
1975 cask # 7801 / 38 years old / Finished a Moscatel Hogshead / 42.4% vol
1978 cask # 1803 / 35 years old / Finished a Sherry Hogshead / 41.6% vol
1978 cask # 1810 / 35 years old / Finished a Port Hogshead / 42.9% vol
1986 cask # 2101 / 28 years old / Finished a Hogshead / 43.7% vol
Apr 03
Posted on 3rd April 2014 by Pierre
anCnoc - distilled at the Knockdhu Distillery - is a brand that has won many friends in recent years with its elegant, well made, and delicately flavoured whiskies. One thing it isn't known for is rich, peated whisky. But that is about to change with the release of three, limited edition, peated expressions.
Here at Whisky Marketplace we're fans of good graphic design and we're always struck by the beauty of anCnoc's packaging. These expressions are no exception. Each carries an illustration of, and is named after, a traditional peat cutting tool.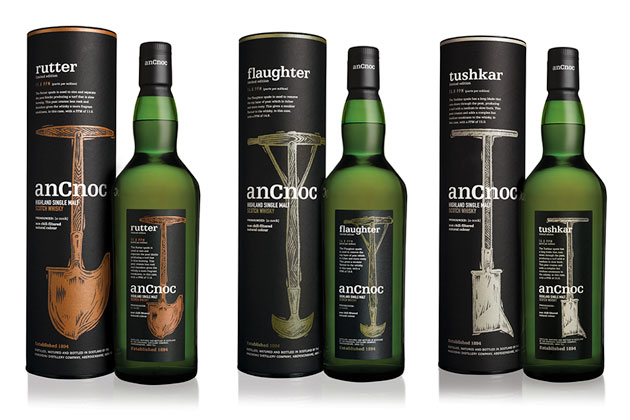 The three expressions are called Rutter, Flaughter and Tushkar. They range in peating levels from 11ppm to 15ppm which stops some way short of what one might describe as "heavily peated". To put that in context, Ardbeg typically has a ppm of 54 and Laphroaig a level of 40ppm. So it seems likely that the peat in these expressions will be an added dimension to the fruit and spice notes we associate with anCnoc rather than completely dominant.
At the time of publishing two of the expressions are available through our regular retailers, prices for anCnoc Rutter can be found here. For up to date prices and availability of anCnoc Flaughter, see this page.