Dec 05
Posted on 5th December 2013 by Pierre
Here at Whisky Marketplace there's nothing we like more than an educational whisky product because, let's face it, whisky appreciation is a voyage of discovery. Every whisky we taste teaches us a little more about the magic of the cask, or the still, or the mash, or the type of oak... you get the picture. Unsurprisingly this new release from Box, one of Sweden's newest distilleries and a very stylish looking player on the world whisky scene, caught our eye.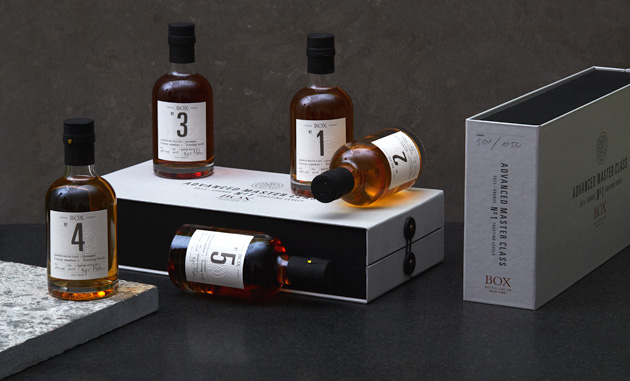 The "Box Advanced Masterclass: Toasting" is a collection of five 20 cl malt spirits matured in Swedish oak casks for 30 months. The difference between the spirits is the level of toasting of the cask each has matured in. Box Distillery Manager, Roger Melander explains, "Toasting is essential when making barrels. Whisky literature often disregards how important toasting is for the development of flavours; it can impart around 100 flavours to a whisky. Just how this process works and its significance for the whisky experience is what we shed light on in our first Master Class."
This beautifully packaged collection would make an ideal Christmas present for your favourite whisky lover, or you could treat yourself! Enjoy some fine Swedish malt spirit and learn all about an aspect of whisky making that, perhaps, isn't discussed as often as it should be.
For more information visit boxwhisky.se
Dec 03
Posted on 3rd December 2013 by Tim
Part of producer Kentucky Bourbon Distillers (KBD) range of Small Batch bourbons, Noah's Mill is bottled at 100 UK proof (57.15%) and is probably the most critically acclaimed of the company's range, with regularly huge scores from the likes of Jim Murray and Paul Pacult.
KBD is a family company that has owned and operated the Willet distillery since 1935, but has been established as the US's most important independent bottler since the 1980s. As a result, it's impossible to say exactly where Noah's Mill originates from – but while it tastes this good it's probably better not to ask too many questions.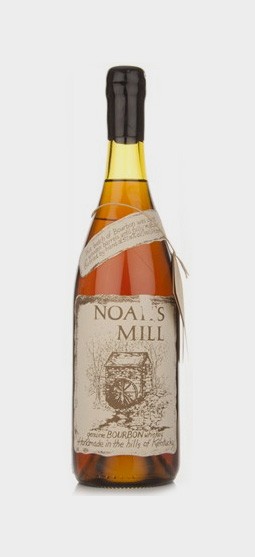 ABV: 57.15% - Size: 75cl
Nose:
A seriously complex, deep, dark, enveloping nose of wood, white pepper, mint leaf, milk chocolate, vanilla, clove, cinnamon and caraway. This profusion of spice indicates a bourbon with a relatively high rye content.
Taste:
At full strength, the spice on the palate is enormous, with the accent on the clove and caraway seeds, plus a touch of menthol / eucalyptus. Very warming at full strength and opens up beautifully with a drop of water, revealing a more chocolatey note, plus strawberry liquorice, resin and fresh wood shavings.
Finish:
A long meander through the spice rack, with sweet chocolate and vanilla cake in the background.
Comment:
A whiskey that fully deserves its lofty reputation. The price has crept up in the last few years, but the quality more than justifies the outlay - this has to be the best value bourbon in the £50 price bracket.
Find the best price to buy Noah's Mill
Dec 02
Posted on 2nd December 2013 by Tim
Originally produced for the US market in 1909, Chivas Regal 25 year old was fairly revolutionary at a time when long-aged whisky was relatively unknown, but the brand disappeared in the aftermath of the Great War and Prohibition and was never reintroduced after Repeal, as it was felt that the Great Depression was not conducive to the successful marketing of a luxury product. Relaunched a few years ago as a limited edition to critical acclaim, happily Chivas Regal 25yo has now been rolled into the ongoing range of one of the world's favourite blends. I don't normally like to talk about presentation generally, but it also looks great.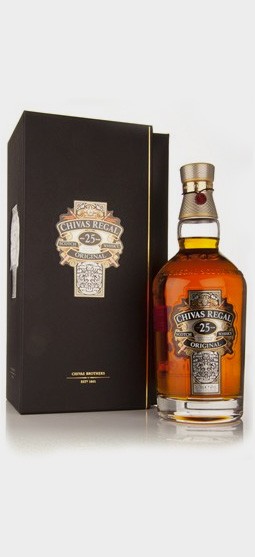 ABV: 40% - Size: 70cl
Nose:
Rich sherry presence, with strong raisin and honeycomb, toasted malt loaf, date, treacle and rather a lot of polished oak, though the fruit is strong enough to handle it.
Taste:
Silky-soft, with strong oak again, manifesting as creamy vanilla and polished, heavily-varnished old wood. The sherry is here as well – Christmas cake – along with a faint but definite hint of smoke and some autumnal dried leaves.
Finish:
Some metallic notes, lingering oak, big spices – clove, cinnamon, pepper – and a fresh herbiness towards the death.
Comment:
A classic digestif, and a brilliant winter whisky. Indulgent, and the price dictates that it's not an everyday dram, but perfect for a special occasion at this time of year.
Find the best price to buy Chivas Regal 25 Year Old
Nov 28
Posted on 28th November 2013 by Pierre
One glance at this month's staff picks and you'll see what's happening at WhiskyMarketplace HQ. The nights are drawing in, the weather is getting colder and thoughts are turning to festive whiskies. Quality, richness and luxury are what we're looking for... unsurprising then to see two superb scotch single malts, a sensational Japanese blend and premium scotch blend.
Staff Picks - our choices for this month
Nov 26
Posted on 26th November 2013 by Tim
Ben Nevis flies under a lot of people's radars, which is a shame, as the distillery is more than capable of putting out some excellent whisky – as would be expected for a distillery owned by Japanese giants Nikka, who have owned it since 1989.
Bottlers Signatory, meanwhile, eschew almost all publicity and promotion, and sadly this little sherry-matured gem has been languishing in obscurity since being bottled towards the end of last year.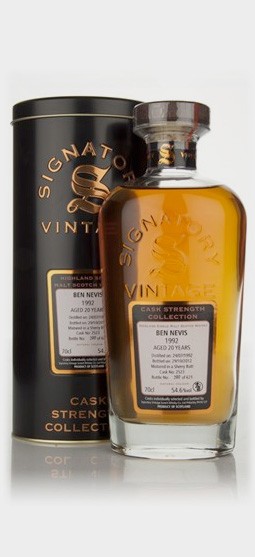 20 Year Old / Sherry Butt #2523 / Signatory
Nose:
Raisin fudge, rum'n'raisin ice cream, Fruit & Nut chocolate, then a treacly note, plus prune and plum, and hints of blackcurrant & liquorice boiled sweets. Water brings out hints of dates and cocoa powder.
Taste:
Very pruney, sweeter than expected, with Christmas pudding, plum duff, chocolate fudge and a faint savoury hint of aged balsamic vinegar. Quite big and drying at full strength, but opens up beautifully with a drop of water.
Finish:
Chocolatey again, with a mince pie pickle sweetness and lingering spice.
Comment:
Perfect for Christmas, definitely one for the sweet-toothed out there. A lovely sherry cask dram.
Find the best price to buy Ben Nevis 1992
Nov 25
Posted on 25th November 2013 by Tim
[Editor's note] This is the first post by Tim Forbes who joins us as a new regular contributor. We're delighted to welcome Tim to the Whisky Marketplace Blog team. Take it away Mr Forbes...
Distilled by one of the USA's largest producers, Heaven Hill, Elijah Craig is one of the company's flagship long-aged bourbons, alongside Evan Williams. The eponymous Reverend Elijah Craig was something of a firebrand minister and part-time distiller, who was once briefly imprisoned after his sermons were found to have caused a breach of the peace.
The Revd. Craig's lasting contribution to world culture was not religious subversion, however, but ironically something rather more mellowing – he is claimed, probably apocryphally, to have been the first bourbon producer to discover the softening effect of burnt barrels in the maturation of his whiskey. This miraculous discovery supposedly came about as a consequence of the minister being too tight-fisted to replace his barrel stock after a fire at the distillery had damaged them.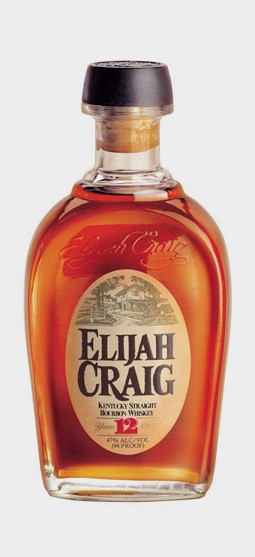 ABV: 47% - Size: 70cl
Nose:
A beguiling combination of chocolate-coated crystallised ginger and bitter orange marmalade. Notes of polished wood and hints of gentle cake spices.
Taste:
The orange is more dominant on the palate with hints of green leaves, though the chocolate element is also present in the form of a cocoa powder note. The oak is more evident on the palate than on the nose, with well-integrated clove and cinnamon. The higher-than usual 47% strength gives this good concentration and bite.
Finish:
Pleasingly sweet with dark chocolate and sweet orange, plus the reappearance of the ginger from the nose. Not dissimilar to a gingery Jaffa Cake.
Comment:
Between Heaven Hill's flagship brands, the consensus has always seemed to favour Evan Williams, perhaps because it's bottled as Single Barrel. But I've always preferred Elijah Craig for its potency and straightforward drinkability.
Find the best price to buy Elijah Craig 12 Year Old
Oct 29
Posted on 29th October 2013 by Pierre
The days are getting shorter, the weather a little colder - in our part of the world at least. So it's no surprise that this month's staff picks sees a selection of rich, warming whiskies. A classic Japanese blend is joined by three generously flavoured scotch single malts. With a good broad spread of prices there's something to suit most pockets too.
Staff Picks - our choices for this month
Jun 21
Posted on 21st June 2013 by Pierre
It's scotch all the way this month for our staff picks. A pair of blends, from two of the most famous scotch brands, along with a couple of independently bottled, cask strength single malts. Sláinte!
Staff Picks - our choices for this month
May 10
Posted on 10th May 2013 by Stuart
For the better part of a decade now Glenmorangie has been constantly associated with a willingness to experiment. The company's Distilling & Whisky Creation Director - Dr. Bill Lumsden - and his team have long advocated the cask as the dominant factor in the final character of a matured malt, augmenting their ever-popular 10 year old with wine-cask finished bottlings such as Quinta Ruban (extra-matured in port casks) and an annual "Private Edition" release.
Last year saw a break from what had been a thoroughly modern series, and instead looked to what was an old style of Glenmorangie which, like the vast majority of distilleries, would have included more than a touch of smoke in years gone by. In contrast, 2013's Ealanta reads as quite the opposite; matured exclusively in virgin oak casks for 19 years, this could well be the very model of a modern vanilla drenched single malt.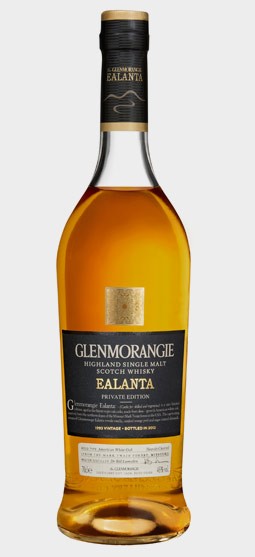 1993 Private Edition
Nose:
Certainly an extremely expressive, open start with a huge swath of syrupy sweet apricot and the almost unavoidable, notably heady vanilla. A little pine oil and peppermint push through the early richness, alongside some treakle toffe, cocoa and festive-spiced orange marmalade. Develops on baked apples and a range of fragrant honey's over time. Very attractive and certainly with all the hallmarks of fresh American oak, if not terribly wide.
Taste:
Hot, peppery wood-spice on delivery; nutmeg, cinnamon and cayenne with an edge of sappy, sour oak and, of course, more vanilla. The resinous character underpins throughout but does allow notes of poached pear, vanilla enriched stock syrup and dried apricots to add some balance. Past the mid-palate things die down a little more quickly than expected with some toasted wood, pencil shavings and flickers of spice leading into the finish.
Feel:
A lovely balance; both peppery and smoothly coating.
Finish:
A touch flat but still with some persistence; vanilla, honey-fudge and those woody, resinous suggestions of pine, freshly cut wood and toasted oak.
Comment:
An almost unavoidably bourbon-like take on Glenmorangie but, somewhat miraculously, the wood fails to completely dominate or give the impression that this release is simply "over oaked" . It's an ultra-modern style of scotch and one that will appeal to a wide audience with its exuberance and accessibility, though for those of us who would prefer to see more spirit character in our bottlings, one to experience rather than indulge in.
Find the best price to buy Glenmorangie Ealanta
Apr 24
Posted on 24th April 2013 by Jean-Luc
Each month here at Whisky Marketplace we put together a collection of staff recommendations to tantalise your taste buds.
This month we bring you two exciting new releases; we sniff out the last few remaining bottles of a rather special release by Highland Park before they disappear for good; and in the video podcast embedded above Pierre revisits the classic blended Scotch Chivas Regal 18 Year Old.
Staff Picks - our choices for this month