After touching upon the official releases of Jura distillery in July's Review of the excellent Isle of Jura 1988 Archives label, it's about time we get around to tasting one. Things have changed for the standard 10 year old in recent years, progressing from being the butt of many a whisky-snob joke to one of the best-selling single malts in the U.K. Some of this must surely be down to its notable presence on supermarket shelves, but not all. The quality has risen markedly in recent batches, and while it still hasn't shaken away all negative associations, it's gaining in credibility as a result.
That aside, things do still remain hazy for Jura if it is to be a brand aimed at serious whisky lovers. It's a common theme with the distilleries owned and marketed by Whyte and Mackay; colouring, chill-filtration, low bottling strengths, they all serve to put off those who prefer their whisky a little more natural. In my experience Jura is at its best when allowed greater time in the wood, so let us start with the Jura 16 year old, perhaps the distillery's unusual, beguiling character will shine in-spite of the aforementioned curtailments.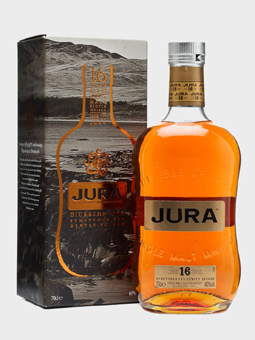 Official Bottling 2012, 40%abv
Nose:
Initially very open and expressive with fresh pine cone, cut cedar and sap. A little ripe, yellow plum and red apple sits alongside the fragrant wood, hints of old rubber and rock salt. A slightly troubling suggestion of damp, mossy wood develops in time but is quickly drowned out by a pervading wave of oily nuttiness; blanched almond, buttered pecan and macadamia. A curious nose, bringing together freshness, oiliness and dirtiness as it progresses.
Taste:
Both sweet and rather spicy on delivery; clean malt, white pepper, nutmeg and the range of nutty notes found on the nose; pecans, creamy almonds. Touches of leather and old humidor build through the mid palate alongside macerated raisins, hints of maple syrup and sappy, resinous wood.
Feel:
Quite soft/thin and gently drying.
Finish:
Gentle toasted spices, pine oil, leather and residual caramel/maple sweetness. The almond notes persist in the length but things slip away without a great deal of development or complexity.
Comment:
Jura remains a glorious island, its people engaging and its distillery under-rated. This bottling though, while ok all round, is not without a few off-key moments and a persistent, niggling sense of heavy handed production. Yes it's well-worn ground, but surely this would reach greater heights had it been bottled at 46% minimum and without the colour and filtration?
Find the best price to buy Isle of Jura, 16 year old