An excellent trip to Balblair distillery a few weeks ago left me with every intension to talk about the new vintages we were fortunate enough to taste. However, such are the complexities of whisky, the visit served as a catalyst for a more contemplativemeander through the broader themes of whisky, marketing and people. Back to the reviews today though, and being as it's both rather affordable and starting to reach retailers' shelves, the 2002 is an ideal place to start these new releases. Incidentally, it seems all future vintages from the distillery will be bottled un-chill filtered, without artificial colour and at a minimum of 46% abv. Certainly something everyone here at Whisky Marketplace and the vast majority of whisky lovers will be pleased to hear.
The last "entry level" Balblair was, unsurprisingly, the Balblair 2001 – you can see Pierre waxing lyrical about that one on the first episode of the rather lovely WMTV whisky podcast – a vintage that seemed to go down very well in most quarters, offering a light, fresh and rather naked example of the distilleries characteristically fragrant make. At the distillery we had the opportunity to taste a 2002 cask sample, cut to bottling strength, as an early example of the general profile for this new release. Even following some very high quality drams it managed to impress; time to find out if the final vatting carries forward the charm of that sample.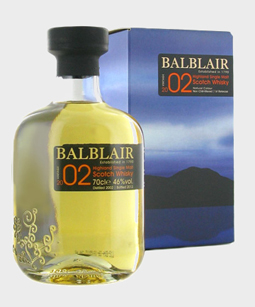 Official Bottling 2012, 43% abv.
Nose:
Very fresh, light and fragrant with a youthful edge; crisp cereal alongside green apples, gooseberry and greengage. A little dry limestone and a squeeze of grapefruit take the dryness further, while a delicate note of acacia honey adds a thread of sweetness. Time and a drop of water soften the profile somewhat, drawing out touches of mint, sweet malt and sherbet lemons.
Taste:
Quite sweet on delivery but building quickly on a pleasingly fresh, slightly sour fruit mix; apple skins, under-ripe yellow plums and pink grapefruit oil. The distillery's frequent suggestion of almond nuttiness surfaces through the mid palate, bringing with it a beautiful oiliness to balance the relative sharpness. The strikingly clean character is maintained towards the finish though with hints of young leaves and fresh mint.
Feel:
Silky, gently oily and coating; an advertisement for non-chillfiltered whisky.
Finish:
A balance of crisp freshness and gentle oils; orchard fruit, delicately floral honey and a damp stone minerality. Surprisingly long.
Comment:
A style of malt that I never tier of, the lack of cask involvement allowing a naturally excellent spirit to shine. The freshness on show here makes it an ideal choice for a refreshingly summer malt (a bit late, I know), and I struggle to think of a distillery bottling I would recommend above it in this style and price point.